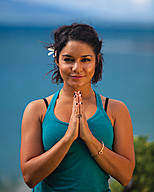 Maui, HI (PRWEB) January 30, 2012
Four Seasons Resort Maui announces its Unforgettable Events program for 2012. Guests can book ahead to secure space in one of these "must do" programs ranging from athletic endeavors to culinary experiences. Last year's series of unique programs intrigued and delighted active vacationers. The resort is now ready to jump-start 2012 with a new and growing line-up of exceptional programs. Here is a first preview of confirmed events and those in the planning stage. For details and to watch for additions to the event schedule, go to http://maui.fourseasons.com/edition/edition/unforgettable-events.

Yoga Retreat: The Body, Mind, Spirit Equation: (February 27-March 3, 2012) Cultivate your physical, mental and spiritual health at an unforgettable yoga retreat featuring Kathryn Budig. A young and widely recognized face in the yoga world, Budig's playful mixture of challenging classes, her infectious love for yoga, and her joyful personality become the stage for a truly inspiring retreat played out on the stunning Wailea Beach. The retreat package includes five nights in luxurious garden-view accommodations, breakfasts daily, sunrise and sunset yoga sessions, excursions to inspirational settings, a welcome reception, "talk story" sessions with Budig in the Yoga Suite, and a traditional outrigger canoe closing ceremony. http://youtu.be/9w7DbKmf2Ro
Four Pinots, Four Seasons Wine Festival: (June 7-9, 2012) Take part in a series of special seminars, private dinners, and a sunset oceanfront gala featuring local "farm to table" cuisine and wines from over forty participating wineries including some of the best California Pinot Noirs and Chardonnays. Partnering with Four Seasons Resort Maui, top winemakers and sommeliers from Anthill Farm Wineries, Brewer-Clifton, Costa de Oro, and Patz & Hall will co-host the events. Dinners take place at the resort's award-winning restaurants—Ferraro's, Spago Maui and DUO, with a fourth dinner at Capische in Maui. A charity golf tournament at Wailea Golf Club is followed by lunch to round out the Maui experience.
Ashtanga Yoga Retreat with David Swenson and Shelley Washington: (June 13 – 17, 2012) Join this internationally known husband and wife team for a yoga retreat that promises to deepen personal practice while enjoying Four Seasons Resort Maui's natural beauty. These foremost instructors will teach many poses from the full Ashtanga system as it was originally taught by K. Pattabhi Jois. These masters infuse their teaching with compassion, joy, energy and a depth of understanding of movement demonstrating techniques that will challenge, inspire and improve your practice. This retreat takes place during the highly acclaimed Maui Film Festival. Resort guests can take advantage of a special package which includes the yoga retreat as well as tickets to the film festival's nightly Celestial Cinema and the Four Seasons' "A Taste of Chocolate.
Fantasy Tennis Camp (November 14-18, 2012) at the award-winning Wailea Tennis Club. This fantasy Tennis Camp is for adult players ranging in skill from recreational to tournament level. Play with the Pro's. Match Point.
Cycling Camp Maui: (November 30 - December 8, 2012) Experience cycling in much the same way as those on the ProTour. Plan to join Tour de France veterans at this weeklong cycling camp. Geared to riders with modest to advanced fitness and experience, the camp offers instruction and training by several of the world's most competitive riders.
Watch for the announcement of these and other Unforgettable Events in the planning:

Golf with the "Flyin' Hawaiian"— Shane Victorino: (November 16 and 17, 2012) Spend time at the resort and on the links with the Philadephia Phillies Centerfielder and MLB All-Star, and play in his hometown Maui charity golf tournament. His foundation helps support underserved children in Hawaii and Philadephia. The event includes a VIP event including other participating major league players. Space is extremely limited.
Wailea Wine and Food Festival Celebrates The World-Famous Red Violin: (December 6 – 9, 2012) Join a select group of guests to see and hear this incredible instrument played by the violin impresario who now owns it; take part in a series of wine tastings and dinners that celebrate and trace the violin's worldwide travels over three centuries.
For details on prices and how to book, go to: http://maui.fourseasons.com/edition/unforgettable-events
About Four Seasons Resort Maui (http://www.fourseasons.com/maui/) Maui's first and only AAA Five Diamond and Forbes Five-Star resort is nestled on 15 acres of the breathtaking Wailea coast. The 380-room oceanfront property is world-renowned for its comfortable opulence, impeccable service and luxurious amenities. The resort is also home to one of the nation's top-rated spas and three of Hawaii's most acclaimed restaurants – Ferraro's Bar e Ristorante, Spago Maui and DUO, a premium steak and seafood restaurant.
contact:
Charlotte Novom
(323)882-8333
cnovom(at)novom(dot)com
Barbara Barrielle
bbarrielle(at)novom(dot)com
(707)291-5364
###