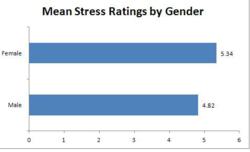 Women respondents' mean stress rating was 5.34, while male respondents' mean stress rating was 4.82
Atlanta, GA (PRWEB) January 27, 2012
Polaris Marketing Research Inc. announced today the findings of its latest survey of online Americans, supported by Research Now for data collection and analysis: Women respondents perceive themselves to be significantly more stressed than men.
All 1,206 respondents were asked to rate themselves on a 10-point "stress scale," where 10 was "very stressed," and 1 was "not at all stressed." Women respondents' mean stress rating was 5.34, while male respondents' mean stress rating was 4.82.
Further, while men were more likely to rate their stress levels "about the same" as a year ago, women were more likely to say their stress is lower than a year ago.
"Interestingly, we should all be envious of the over 65 crowd, with their significantly lower stress ratings than any other age group," said Polaris President Jan Carlson
"Not only are they less stressed than any other age group, they are more likely to believe their stress levels are unchanged from twelve months ago. Compare that to the under 50s who rate their stress levels as significantly more stressed, but increasing from a year ago, " continued Carlson.
Click on the PDF file to the right for all graphics used in this survey.
Founded by Jan Carlson, Polaris Marketing Research is a full-service firm that provides state-of-the-art online interactive marketing research reporting, interviewing and data collection, quantitative and qualitative research expertise and personalized project management.
Atlanta-based Polaris Marketing Research is affiliated with the Council of American Survey Research Organizations, the American Marketing Association and the American Society for Quality.
Research Now is the leading global online sampling and online data collection company. With over 6 million panelists in 38 countries worldwide, Research Now enables companies to listen to and interact with real consumers and business decision makers in order to make key business decisions. Research Now offers a full suite of data collection services, including social media sampling, and operates the Valued Opinions™ Panel and e-Rewards® Opinion Panels. The company has a multilingual staff located in 24 offices around the globe and has been recognized for four consecutive years as the industry leader in client satisfaction. Visit http://www.researchnow.com to learn more.
###