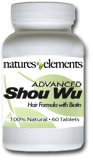 This product is great! After taking He Shou Wu for a month my hair started growing again on spots where it was only falling out for over 5 years. And all over my hair is growing so fast! - Mirella
Lindenhurst, NY (PRWEB) January 27, 2012
Natures Elements has provided customers with He Shou Wu for years with continued success. The introduction of Advanced Shou Wu was formulated to allow customers to experience enhanced results by consuming numerous hair nourishing vitamins, herbs and minerals in two easy to swallow tablets.
As a 12:1 extract, Natures Elements offers the most powerful form of He Shou Wu available. In addition to 1,000 mg of He Shou Wu (also know as Fo-Ti) Advanced Shou Wu features 10 added vitamins and herbs allowing hair growth and color to improve safely and naturally.
One of the additional ingredients found in Advanced Shou Wu is Bioperene, black pepper extract, which increases the absorption of He Shou Wu and all the other essential nutrients found in this new formula. Bioperene allows each ingredient to perform to its fullest extent and provide maximum results. Other ingredients and their benefits along with more reviews and success stories can be found at http://natureselements.net/Advanced-Shou-Wu
Advanced Shou Wu has long been accredited for its ability to nourish the liver and kidneys providing a better blood flow to the scalp thereby stimulating healthy hair. Not only will Advanced Shou Wu put an end to graying hair, but this amazing herb has lots of additional benefits, including lowering cholesterol and blood pressure to name a few. Making Advanced Shou Wu a tonic worthy of taking for the rest of one's life.
Customers are continuing to show their appreciation for this new product addition: "I've taken the Advanced Shou Wu now for three months and have noticed excellent results. Not only do I not have to color my hair any more, I've also noticed that a bald spot at the crown on my head is re-growing hair now. Great product and all natural, which my body likes. Thank you for your fantastic product," stated Natures Elements customer, Mike C.
Natures Elements, a high quality vitamin and herbal supplements retailer, is committed to research and offering customers superior formulations that provide real results.
###