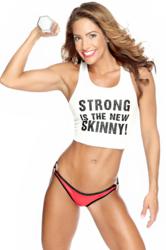 No wonder all the networks want her, she's the hottest friggin mom in the world. All the boys at E! Entertainment nearly left their girlfriends. Look out Julianna Hough, Ryan Seacrest may fold.
Los Angeles, CA (PRWEB) January 27, 2012
Jennifer Nicole Lee was named America's sexiest mom and women, and her famous backless dress photos have gone viral. Rumors have been circulating that she may even do the full monty in her future celebrity pictorial magazine cover shoot and layout spread in Playboy magazine. Jennifer Nicole Lee is not just a model, she is a mega mogul who exudes timeless beauty, grace, with the necessary edginess that keeps her fans coming back for more. With her 5th annual calendar all dedicated to the art form of Body Painting, her http://www.JNLClothing.com line blowing up with massive expansions and online sales, and now her body being the envy of every mom and women, with celebrity photographers relentlessly trying to aim their lens at her body, its apparent that Jennifer Nicole Lee's stock is on the rise.
She describes herself as a passionate "nerd" who simply got sick and tired of being overweight and out of shape, who then fell in love with fitness. This love affair with working out turned up becoming one of the hottest training techniques created by Jennifer Nicole Lee, called JNL Fusion. JNL Fusion is what Jennifer says helps her to maintain her super fitness model physique, as described in her bestselling book entitled "The Jennifer Nicole Lee Fitness Model Diet Book". She also loves to cook, and will be releasing her 3rd hard copy book called "The Fun Fit Foodie Cook Book".
With so many irons in the fire, it's no wonder Jennifer Nicole Lee is not only super sexy but super successful. Could she embody the female version of Donald Trump? Possibly, but just that much more appealing.
Jennifer Nicole Lee is the CEO and visionary power house behind JNL Worldwide, Inc. Due to her wildly successful globally broadcasted and marketed fitness and wellness products, books, digital products, e-commerce, and merchandise, she is internationally recognized in over 110 different countries. In short, "JNL" is an extremely successful global mega-brand. Mrs. Lee is a fitness celebrity, a bestselling author, a highly sought-after spokes model, being the name/face/and body of all of her lifestyle brands, wellness products, exercise equipment, DVDs, home, bath, bedding, spa, and electronic downloads, and websites. However and most importantly she is a devoted wife and mother, representing the millions of other mom's and wives in the world with a brand they can trust.
Jennifer is one of the world's most accomplished Super Fitness Models, and is an international celebrity due to her high profile wellness merchandise and key media appearances. Jennifer's career as a top fitness expert and icon began when she lost over 80 lbs after the birth of her children. Her motivational weight loss success story caught the world's attention, after she gained columns of accolades as a professional fitness competitor, holding countless titles and crowns. She gained international notoriety, due to her incredible transformation, and was soon a frequent guest on major national talk shows, such as The Oprah Winfrey Oprah, E! Entertainment, Fox and Friends, Extra, The Secret Lives of Women, and most recent being highlighted as the top ultimate "pitchwoman" and presenter on Discovery's "Pitchmen" show, showcasing her captivating and strong TV sales power. Jennifer's energy, creativity, and entrepreneurial spirit combined with a burning desire to help others drove her to create the JNL brand. To date she has appeared on a record breaking 50 magazine covers
Some call JNL the female Donald Trump, due to her uncanny ability to brand, promote, market and sell with the best. Mrs. Lee's passion for business innovation has allowed her to blend lifestyle products and services into the digital realm. Coined as the "Steve Jobs of the fitness industry" she has harnessed the unlimited marketing and sales potential of the internet, creating a plethora of e-commerce sites, and .com's that rake in a hefty residual income via the world wide web. Do date, her company and her corporate alliances have three major future lifestyle products soon to be rolling out, with key television media spots secured for advertising. Jennifer is the driving force behind the unprecedented success and future potential of JNL Worldwide.
And to wrap it up, here is a quote taken off a major newswire summing up the effects Jennifer Nicole Lee has had on the fitness and entertainment industry: "No wonder all the networks want her, she's the hottest friggin mom in the world. All the boys at E! Entertainment nearly left their girlfriends. Look out Julianna Hough, Ryan Seacrest may fold."
Her mission statement on her website is: "It's my goal and passion to increase the quality of your lifestyle." -JNL
For more, visit http://www.JenniferNicoleLee.com and also Google the words "Jennifer Nicole Lee".
###