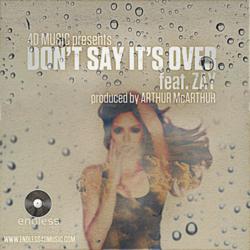 I feel the viewer might appreciate it more because it has a story line and a decent amount of dialogue to draw them in emotionally
Toronto, Ontario (PRWEB) January 30, 2012
The entertainment industry isn't exactly the friendliest breeding ground for building long lasting romance. It can be hardest for an artist's significant other when careers begin to blossom. Often, with an accelerated level of success, there comes a significant increase in the amount of time spent away from home and an overall strain on the foundation of the artists' relationships. Those can crumble fast.
Zakaria "Zay" Ali is one artist that knows the stakes of the game he's chosen to play. His new Chris Strikes-directed video for "Don't Say That It's Over" is a story of a career building momentum and a strong relationship deteriorating as a result. Signed with Endless Records in 2011, Zay collaborated with Rabby Teng (1 Ink) to write the record, tapping into their own life experiences to get the message across. Zay explains, "The record itself is about an obvious break up; it was created from feelings both inspired from me (Zay) and Rabby, (but) more so Rabby due to a previous relationship he was in." With the song's lyrics in hand, Zay moved on to the obvious next step of finding the right beat to accompany the story. Enter Arthur McArthur.
Arthur McArthur is one of the most sought out producers in Canada right now and he's recently upped the ante with some key placements on the new Rick Ross mixtape, Rich Forever. Before that, the 23-year-old beatsmith had also produced key records for artists like Drake ("Uptown," So Far Gone) and Big Sean ("My House," Finally Famous). As Zay recalls, "We completed the track, went to Arthur's studio and it just came naturally from there. Arthur picked up the guitar, started to play it live and the track just started to mean more to me."
With the song recorded, Zay teamed up with Chris Strikes of The NE Inc. to plan out the music video which was eventually shot September 1, 2011 on location in Toronto. As this is Zay's first music video release, the pressure was on to make the first impression count. "This video is very important because it is my first one and I was really happy about the way it came out, Chris Strikes definitely helped bring the music to life. I feel the viewer might appreciate it more because it has a story line and a decent amount of dialogue to draw them in emotionally."
" The "Don't Say That It's Over" video was released January 26th and is available on the Endless Records label website and YouTube channel (http://www.youtube.com/4dbelowmusic).
###