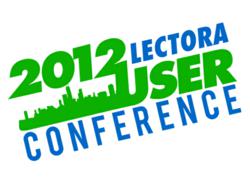 The Lectora User Conference is the perfect opportunity for us to connect with e-Learning developers from around the world to help them get the best content translation possible
Cincinnati, OH (PRWEB) January 27, 2012
The 2012 Lectora User Conference announces LinguaLinx, Inc. as a Gold Sponsor Exhibitor for its upcoming e-Learning conference May 22-24 in Chicago. In addition to serving as a Gold Sponsor Exhibitor, LinguaLinx has also signed up as the exclusive translation vendor at the Lectora User Conference to showcase its products and services to hundreds of Lectora e-Learning software users from more than 125 countries.
"In its eighth year, the Lectora User Conference brings together hundreds of e-Learning professionals from around the world," said Peter Bray, Chief Marketing Officer of Trivantis Corporation. "It's the perfect venue for companies such as LinguaLinx to reach out to clients and prospects in an intimate, unique setting that provides instant access to those looking for resources to enhance e-Learning."
LinguaLinx, Inc. provides comprehensive translation services in more than 100 languages. To maintain quality, accuracy and cultural appropriateness, a carefully selected, highly experienced and qualified team including a translator, editor, proofreader and Quality Assurance Specialist create, edit and review each translation before delivery.
"When developers spend time creating professional content for their clients or companies, the last thing they want is for all of their hard work to get 'lost in translation.' That's where we come in with high quality translations for e-Learning courses and training," said Jessica Close, Chief Operating Officer of LinguaLinx, Inc. "The Lectora User Conference is the perfect opportunity for us to connect with e-Learning developers from around the world to help them get the best content translation possible."
In its eighth year, and after high demand, the Lectora User Conference welcomes exhibitors for the first time. The addition of exhibitors at the Lectora User Conference provides the link between content developers and valuable e-Learning services to help users enhance the content they create with Lectora e-Learning authoring tools.
For more information about the 2012 Lectora User Conference including keynote speakers, presentations, exhibitors and registration, please visit: 2012 Lectora User Conference.
About The Lectora User Conference and Trivantis Corporation
The Lectora User Conference is a leading e-Learning industry event that attracts professionals from around the world to advance their development skills, increase their e-Learning knowledge and network with other e-Learning professionals. As the flagship product for Trivantis, Lectora® is the world's leading e-Learning software used by most Global 2000 companies in more than 125 countries and is offered in six languages. The Lectora line of e-Learning products includes Lectora Inspire, Lectora Online, Lectora Publisher and Lectora Integrator. Trivantis also produces Flypaper™, the leading Flash content creation platform that empowers users to create, edit, share, track and reuse high-impact Flash and video content. Snap! by Lectora® is the easy-to-use PowerPoint plug-in rapid e-Learning software that converts PowerPoint to Flash. Its sister product, Snap! EmpowerTM Flash interactions builder, enables anyone to create Flash content without having to know Flash programming. To round out the Trivantis family of products, CourseMill is the powerful and affordable learning management system (LMS). Headquartered in Cincinnati, Ohio, Trivantis Corporation also has offices in Boca Raton, Phoenix, Paris and London. Trivantis, Lectora, Flypaper, CourseMill, Snap! by Lectora and Snap! Empower are trademarks of Trivantis Corporation.
Website: http://www.Trivantis.com
Phone: 877.929.0188
Facebook: facebook.com/Trivantis & facebook.com/SnapByLectora
Twitter: twitter.com/Lectora
Blog: trivantis.com/blog & SNAPbyLectora.com/e-Learning-blog
###