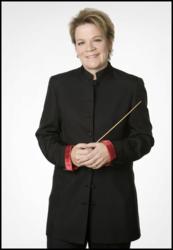 Baltimore, Md. (PRWEB) January 28, 2012
Music Director Marin Alsop conducts the Baltimore Symphony Orchestra in an Off the Cuff series presentation that explores Prokofiev's triumphant Fifth Symphony on Friday, February 24 at 8:15 p.m. at the Music Center at Strathmore and Saturday, February 25 at 7 p.m. at the Joseph Meyerhoff Symphony Hall. Drawing from themes he had jotted down in a notebook, Prokofiev composed his fifth symphony in a single month in the summer of 1944. Describing his composition, Prokofiev said, "I wanted to sing the praises of the free and happy human being—of such a person's strength, generosity, and purity of soul." Marin Alsop describes how this landmark symphony, considered his greatest work for its heroic grandeur and emotional depth, symbolized a turning point in the spirit of his people. With the composer himself on the podium at the work's premiere in 1945, the original concert occurred just moments after Red Army soldiers achieved victory by crossing the River Vistula and entering Nazi Germany in the final months of World War II. The BSO's Off the Cuff series offers a fresh take on classical music by exploring the lives of the composers, making the performances entertaining and engaging for music enthusiasts of any level. Please see below for complete program details.
Marin Alsop, conductor
Hailed as one of the world's leading conductors for her artistic vision and commitment to accessibility in classical music, Marin Alsop made history with her appointment as the 12th music director of the Baltimore Symphony Orchestra. With her inaugural concerts in September 2007, she became the first woman to head a major American orchestra. She also holds the title of conductor emeritus at the Bournemouth Symphony in the United Kingdom, where she served as the principal conductor from 2002-2008, and is music director of the Cabrillo Festival of Contemporary Music in California.
In 2005, Ms. Alsop was named a MacArthur Fellow, the first conductor ever to receive this prestigious award. In 2007, she was honored with a European Women of Achievement Award, in 2008 she was inducted as a fellow into the American Academy of Arts and Sciences and in 2009 Musical America named her "Conductor of the Year." In November 2010, she was inducted into the Classical Music Hall of Fame. In February 2011, Marin Alsop was named the music director of the Orquestra Sinfônica do estado de São Paulo (OSESP), or the São Paulo State Symphony Orchestra, effective for the 2012-13 season. Ms. Alsop was named to Guardian's Top 100 Women list in March 2011. In 2011 Marin Alsop was named an Artist in Residence at the Southbank Centre in London, England.
A regular guest conductor with the New York Philharmonic, The Philadelphia Orchestra, London Symphony Orchestra and Los Angeles Philharmonic, Ms. Alsop appears frequently as a guest conductor with the most distinguished orchestras around the world. In addition to her performance activities, she is also an active recording artist with award-winning cycles of Brahms, Barber and Dvořák.
Marin Alsop attended Yale University and received her master's degree from The Juilliard School. In 1989, her conducting career was launched when she won the Koussevitzky Conducting Prize at Tanglewood where she studied with Leonard Bernstein.
COMPLETE PROGRAM DETAILS
BSO Off the Cuff: Prokofiev's Fifth Symphony
Friday, February 24, 2012 at 8:15 p.m. – Music Center at Strathmore
Saturday, February 25, 2012 at 7 p.m. – Joseph Meyerhoff Symphony Hall
Marin Alsop, conductor
Prokofiev: Symphony No. 5
Tickets range from $28 to $88 and are available through the BSO Ticket Office, 410.783.8000 or BSOmusic.org.
###