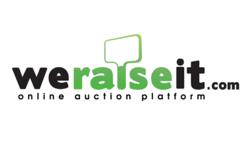 We aim to please...use your own merchant processor!
Minneapolis, Minnesota (PRWEB) January 30, 2012
BancCard Financial Services, Inc. dba Event Payment Services announced today the accreditation of the WeRaiseIt web portal payment gateway with the following merchant credit card processors.
● CardWorks
● First Data Nashville
● Global Payments-Canada
● Paymentech-Salem
● Elavon
● First Data Omaha Interlink
● Paymentech-Tampa
● EPX
● Global Payments-East
● MeS Trident
● Vital (TSYS)
"An organization with an existing merchant credit card processing account can utilize the WeRaiseIt gateway to process credit card transactions in a secure encrypted environment utilizing their current merchant processor," stated Paul McConville, President of BancCard Financial Services, Inc. "This universal feature eliminates additional paper work and expense."
The portal provides a nonprofit the ability to design their own fundraising website based on a large collection of standard or customizable templates and host any number of online or physical events. Full scale online auctions can be conducted and the comprehensive features allow for important details like registering silent auction donations then building and printing catalogs and bid sheets. Visitors to the website can give donations, make advanced reservations, purchase event tickets, pay sponsorship fees, and participate in online auctions. The portal also generates invoices, thank you email and reports. The WeRaiseIt Fundraising Web Portal is unique in the breadth of services it provides to nonprofit organizations that would otherwise need to engage with multiple providers and technology experts to accomplish even a relatively simple gala event.
Company News
About Event Payment Services:
Event Payment Services was created by BancCard Financial Services, Inc. (BFSI) to specialize
in the fundraising needs of nonprofit organizations. ePSPay™ and WeRaiseIt are brands of Event Payment Services. Since 1997, BFSI has provided credit and debit card processing, check verification, check conversion/imaging, gift and loyalty card services, and merchant processing terminals to businesses, organizations and agent bank programs. BFSI provides these services through its terminals and web-based software. EPS was created in 2006 to focus on the fundraising needs of nonprofit organizations.
BFSI, through its ePSPay™ and WeRaiseIt products can be found on the web at http://www.eventpaymentservices.com and http://www.weraiseit.com.
###