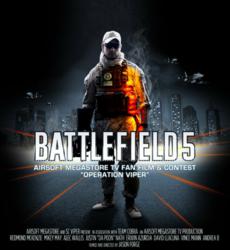 Airsoft Megastore is celebrating the official launch of Battlefield 5: Operation Viper by giving away 4 AEGs.
Baldwin Park, CA (PRWEB) January 27, 2012
Airsoft Megastore is proud to announce the official launch of its first mini film, Battlefield 5: Operation Viper. This film is the first of its kind in the Airsoft industry and is an action-packed tribute to the sport of Airsoft and the blockbuster FPS video game, Battlefield. The project took 3 weeks to film and edit. The result is an exciting and engaging vehicle for showcasing the latest in Airsoft AEG technology.
The purpose of the film was to honor the sport of Airsoft, pay homage to the game of Battlefield - a fan favorite at the Airsoft Megastore headquarters - and elevate the video game experience to something more exciting and truer to life. The film, like Airsoft firearms, is highly realistic, from the frantic action sequences to the featured Airsoft guns which are manufactured to spec for hyper authenticity and realism. The film was produced in cooperation with Team Cobra of Corona, CA, and SC Viper.
To celebrate the launch of this film, Airsoft Megastore is offering its YouTube subscribers a chance to win one of four brand new AGM KS90 Full Metal AEG rifle between now and 02/08/2011. Each week Airsoft Megastore will randomly select one winner from their YouTube subscriber pool. Every person who subscribes to the Airsoft Megastore YouTube channel will automatically be entered to win. This includes both existing and brand new members. Due to international laws restricting airsoft gun distribution, this give-away is only open to U.S. residents.
To learn more about Airsoft Megastore's initiative to bring the sport of Airsoft to the masses, visit Airsoft Megastore's airsoft online store and browse they many online resources including the Airsoft Megablog and the AMS TV.
About Airsoft Megastore
Airsoft Megastore is North America's premier high-value supplier of Airsoft guns, gear and accessories, as well as high grade Airsoft BBs. Strategically based in Southern California, Airsoft Megastore keeps costs low with efficient bulk product importing from Airsoft manufacturers in Asia. The company is committed to bring Airsoft to the masses by making the sport more accessible. The company strives to provide high quality Airsoft products at the lowest possible prices with a 125% low price match guarantee, including all the latest Airsoft Sniper Rifles for 2012.
###