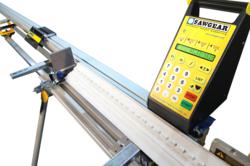 We just received a SawGear for a few jobs we are working on simultaneously and love it," said Jon Beyer, owner BarkerBeyer Woodworking. SawGear.
Vancouver, WA (PRWEB) January 27, 2012
TigerStop, the global leader in linear positioning systems, announces Crown+MiterPro™ for SawGear. Crown+MiterPro is designed to dramatically simplify all angle cutting. It makes installing items such as crown molding a snap even for the novice. SawGear is a precise and rugged automated length measuring system which attaches to miter and radial arm saws. The new Crown+MiterPro feature will be included in every new SawGear, making it a simple process to cut and install all types of trim such as crown, base, shoe, casings, along with rafters and any other angle cutting. Crown+MiterPro reduces the loss of costly materials when inaccurate cuts are made. Some sophisticated crown materials can cost up to $75 per foot and one miscut can cost hundreds of dollars.
The software calculates difficult crown angles and lengths instantly; providing both the right angle and side to set a miter saw, along with the correct length for the part, ensuring the perfect part is cut the first time and every time. To see a demonstration of SawGear and Crown+MiterPro please visit booth #W250 at the International Builders Show, Orlando, FL, February 8 – 11, 2012.
Cutting crown and complex angles can be challenging with no room for error. By utilizing SawGear with Crown+MiterPro the quality of work is dramatically enhanced and the amount of time it takes to complete a job is drastically reduced, making this an invaluable tool for any job site. The software reduces labor time for crown molding installation by at least 50 percent and can be used for all finish work along with any angle cutting requirements from framing to finish. The ease of using the SawGear with Crown+MiterPro allows the novice or inexperienced user to calculate and cut any difficult angle and length correctly the first time, giving the experienced craftsmen the ability to provide his customer with the highest quality work while finishing the job faster, with no loss of quality in fit nor finish.
"We just received a SawGear for a few jobs we are working on simultaneously and love it," said Jon Beyer, owner BarkerBeyer Woodworking. "The tedious tasks of measuring, marking, and setting gauges is eliminated with the SawGear. And now with the Crown+MiterPro software, we are confident our guys will get it right every time. Most of our guys groan when asked to do crown molding, but with the SawGear and the Crown+MiterPro software, the whole crew is volunteering and excited."
"SawGear is a disruptive technology for the construction industry," said Spencer Dick, founder and president, TigerStop LLC. "Users are cutting framing labor by as much as 30 percent and crown installation time by at least 50 percent while improving overall quality. Construction times are being compressed while the contractor is making no compromises on the final product. When SawGear is used for framing, each subsequent trade finds that the ease of installing everything from drywall to HVAC systems goes quicker. Openings are dead square and level so that doors and windows go in as fast as you can screw them in; tedious leveling and shimming is virtually eliminated. Now, with Crown+MiterPro, the finish and trim are easy - even a novice can be trained to do quality work within a day."
Dick continued, "SawGear has won numerous national awards for its innovation and productivity benefits. Now, with the addition of Crown+MiterPro, we've taken the pain and error out of cutting crown, base, siding, trim, and casing, along with any angled framing members from complex trusses to roof rafters. SawGear makes them all simple, and it adds up to savings of thousands of dollars in wasted material and time. We are exited by the impact the SawGear will have on the construction industry.and the increased affordability that will follow in housing costs."
SawGear is easy to use, sets up in minutes, and makes accurate cuts every time. Simply attach the SawGear to any chop saw or radial arm saw, enter the required dimensions, slap the material against the rugged stop and cut the part. SawGear eliminates the miscuts and inaccuracies on the jobsite that all add up to lost time, loss of materials and poor quality.
SawGear Product Benefits:

No more pulling a tape measure, making a mark, grabbing your speed square and extending the mark across the board, then putting your pencil, square, and tape measure back to position the material and make small cuts until you are on the mark.
o Enter your position and slap your material against the stop for the right length this time and every time
One worker can do the cutting for up to 6 framers or siders
Automates a manual saw
To view SawGear videos and testimonials please visit http://www.sawgear.com or for information on TigerStop, please visit http://www.tigerstop.com or call 360.448.6157.
If you are with the media and would like to schedule an interview, please contact Linda Ferguson, public relations counsel, lcourtneyferguson(at)comcast(dot)net or 503-869-5827.
###