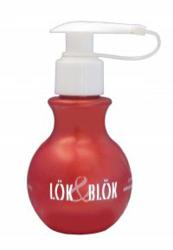 Lok & Blok is my friend! With my last order, I purchased some Lok & Blok to try. I was skeptical. No need - it's fantastic! Not sticky at all & it works on my thick, frizzy and unruly hair. Thank you!
Phoenix, AZ (PRWEB) January 28, 2012
It's like the story of the little engine that could; Sabino Hair Solutions, a small, family-owned business based in Phoenix, Ariz., has taken on the big companies and won. This fall, Sabino offered up a challenge: They asked users of anti-frizz hair products to try the top four—Sabino's Lök & Blök, John Frieda's Frizz-Ease, Living Proof, and Paul Mitchell's Smoothing Gloss—in a blind study and report their results after a six-week period. Once the results were in, Lök & Blök's yes votes surpassed those of Frizz-Ease by three percentage points.
Although the study was limited (only 67 participants), Sabino's marketing department did gain some valuable insight. Twenty-two people preferred Lök & Blök, followed closely by 20 for Frizz-Ease. Living Proof garnered 13 thumbs-up votes with Paul Mitchell rounding out the numbers with 12 followers. It turns out that, even though study participants had no idea which product was which, they were loyal: Those who loved Sabino disliked John Frieda—and vice versa. The researchers at Sabino, who sponsored the challenge, surmised that the two top products provide similar top-notch ingredients and results; it's more a matter of what works for each individual user.
Sabino Hair Solutions was launched by renowned stylist Victor Sabino, who created a proprietary formula using the finest ingredients, including pure silicones. "Silicones help to retain hair's natural moisture while repelling outside elements, such as humidity," shared Sabino. "We used the highest grade silicones, and once our customers try the products, they are smitten."
Lök & Blök is the lighter version of Sabino's anti-frizz serums; the heavier version, Moisture Block, had been discontinued and just returned to their lineup last month. "We may have seen better results in this challenge had we pitted Moisture Block against Frizz-Ease," suggested Sabino's marketing consultant, Paul Bates. "This reintroduction of Moisture Block may necessitate another challenge in the near future!" he offered.
For more information about Sabino products or this challenge, contact Paul Bates at 480-232-6992 or paulhbates(at)hotmail(dot)com.
# # #