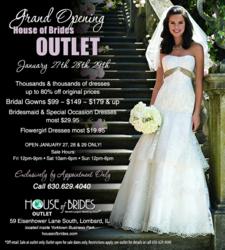 "We have a huge selection of wedding and special event apparel and products", says President Eva Buziecki. "For the budget-minded customer, the savings are absolutely too incredible to miss."
Lombard, Illinois (PRWEB) January 26, 2012
The retailer announced Monday, January 23rd the opening of the new location. The Outlet is located at 59 Eisenhower Lane South in Lombard, Illinois and is boasting prices up to 80% off original retail prices. The location features merchandise and savings not available at House of Brides other salons.
Front desk staff at the Glen Ellyn salon has been scheduling the appointments for the new location. Staff reported an influx of bookings since the announcement early this week with appointments quickly reaching capacity. Management decided Wednesday to increase the appointment availability. The retailer can now accept up to 500 appointments for Friday, Saturday and Sunday.
The Outlet is open only January 27th, 28th and 29th. Sale hours are Friday 12pm – 9pm, Saturday 10am – 6pm and Sunday 12pm – 6pm. Appointments are mandatory and scheduled for 1-hour. Walk-in customers will not be accepted.
Sale highlights include wedding dresses priced $99, $149, $179 and up. Most bridesmaid dresses and special occasion dresses are $29.95. Most flowergirl dresses are $19.95. Bridal headpieces, shoes, jewelry, accessories and products are also on sale.
"We have a huge selection of wedding and special event apparel and products", says President Eva Buziecki. "For the budget-minded customer, the savings are absolutely too incredible to miss."
Merchandise is for immediate purchase only. Special order products are not offered at the location.
Monday's announcement received a fast response due to the advertised pricing. The buzz continues today with appointments again reaching capacity. Management stated this afternoon times are still available for the 3-day Grand Opening Sale. However, management does stress customers should book their appointment as quickly as possible.
Customers can call 630-629-4040 for an appointment. For location, see the Grand Opening Sale ad.
About House of Brides:
House of Brides established its first brick-and-mortar store in 1929 and has since grown to 10 Chicagoland stores and global E-Commerce website, http://www,houseofbrides.com. Millions of Brides and their wedding parties visit the salons and global website for over 30,000 wedding and special event products.
###