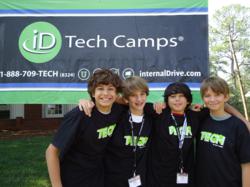 There are many ways to express yourself with technology.
Campbell, CA (PRWEB) January 31, 2012
STEM (Science, Technology, Education, and Math) evolves into STEAM this summer at iD Tech Camps and iD Teen Academies, with an added emphasis on the Arts. iD Tech Camps recently added a new introduction to web design class, Intro to Web Design & Photography, as part of their strategy for integrating technology and the arts.
"There are many ways to express yourself with technology," explains iD Tech Camps CEO Pete Ingram-Cauchi. "You can use your imagination and create whatever you want."
The new summer kids camps course gives students a chance to explore their artistic capabilities while sharpening their STEM skills. Students ages 9-12 will learn software including Adobe® Dreamweaver® and Photoshop®, as well as gain experience using a professional DSLR camera. They will also gain an introduction to web design and learn the basics of graphic arts, photography lighting and composition, and photo editing. As in all iD classes, students complete a project showcasing their new skills by the end of their weeklong course.
For teens specifically interested in filmmaking and photography, two-week overnight programs at iD Visual Arts Academy give students a pre-college, immersive experience in visual effects, photography, and documentary movie making.
To parents interested in getting their kids excited about technology, full STEAM ahead!
ABOUT iD TECH CAMPS AND iD TEEN ACADEMIES
iD Tech Camps and iD Teen Academies engage students in STEM education with summer technology programs held at over 60 prestigious universities nationwide. Learn how to make iPhone® apps, how to create your own game, how to model 3D animations with Autodesk® Maya®, how to build a website with Flash®, and more. Sessions are weeklong, day and overnight for students ages 7-18. Learn essential technology skills in small classes while attending sessions held at universities such as Stanford, UCLA, Princeton, and more. Teens preparing for college can build online portfolios and explore future career paths at iD Gaming Academy, iD Programming Academy, and iD Visual Arts Academy. Visit internalDrive.com or call 1-888-709-TECH (8324) for more information.
# # #