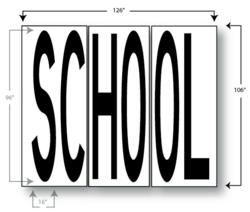 To avoid misspellings, the Federal Highway Administration (FHA) has specifications for pavement markings detailing the size, style and spacing of the characters. This uniformity makes it easier for motorist to identify signs and instructions.
New York, NY (PRWEB) January 27, 2012
Just one day after being publicly exposed by the New York Post on January 24, 2012, an independent contractor hired by the Department of Transportation has journeyed down to Lower East Side in Manhattan and ground out of existence Stanton Street's incorrectly spelled "SHCOOL" crossing sign. It was immediately replaced with the much more acceptable "SCHOOL" spelling.
The full expression, "SHCOOL X-ING" had been installed on the pavement with permanent textured industrial tape in July of 2010. At that time, the street was dug up to work on underground utility lines. According to Consolidated Edison, a local utility provider, a subcontractor is the person responsible for the glaring mistake.
"In the subcontractors defense," said Daniel Keane, President of Alphabet Signs, a distributor of pavement stencil products, "street stenciling is always a team effort. Other utility workers, road flaggers and supervisors were probably also on site at the blocked-off street." Keane continued, "One has to wonder who did the final inspection."
The irony of the placement of the misspelled crossing sign has been increased by the fact that it occurred on the pavement in an area with two high schools and a middle school. Some have wondered if the unfortunate location of this careless mistake and the fact that it went unreported—or at least uncorrected—for almost 18 months are reflective of a deeper issue. According to New York City talk-show host John Gambling, Marta Valle High School is known as "one of the most problematic schools in the city." While no one suggests the mistake was purposeful, the fact that it remained unaddressed for so long is perplexing and might be suggestive of a general lack of concern for this school.
The Federal Highway Administration (FHA) relies on the Manual on Uniform Traffic Control Devices (MUTCD) for specifications for all public signage. Uniformity is maintained through guidelines that define proper letter size, style and spacing of characters. While permanent industrial pavement tape was used on Stanton Street, it is also possible to purchase stencils that can be used as complete words or cut apart as individual letters. "The fact that there is no regulated spacing between the letters of this crossing sign is evidence that this was not a stencil-company error," said Keane. "Also, stenciling would have produced uniform misspelling in the other signs around the schools, but the Stanton Street sign has been the only misspelled one."
Individual state specifications can determine the height of the sign size, which usually ranges from 8 feet to 12 feet. The letters in question are 8 feet high. MUTCD also recommends the word "CROSSING" rather than "X-ING." However, this variance was not corrected on Stanton Street on Tuesday.
The MUTCD specs are for two lane stencils but with incidents such as this there is a real need for single lane stencils. In response Keane's company, Alphabet Signs, located outside of Lancaster, PA, has just released a new product of School Stencil for Single Lane markings. According to its web site the signs are made to each state's specifications but they will modify them per local requirements.
According to the Department of Transportation, the original intent of the crossing sign was to slow down traffic and to remind drivers they were passing through a school zone. Such pavement signs serve as important safety devices and identify protected crossing zones for students and other pedestrians. Most state regulations require that all signs and markings located within a school zone be inspected prior to the beginning of each new academic year. One has to wonder if the real fault lies not only with the original contractor, his co-workers and supervisors but also with the officials in charge of these yearly inspections. Two Septembers have passed since the mistake was made. Once this embarrassment became public news, it was corrected in less than two days.
About Alphabet Signs
Alphabet Signs provides fast turnaround, expert service and great prices on 3000+ sign items in 50+ categories. Their quality signs have been hand picked by sign experts. Alphabet Signs has been in business over 20 years.
Contact: press(at)alphabetsigns(dot)com
###