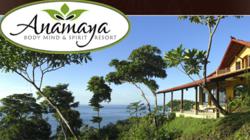 Because of the astounding response Anamaya Resort experienced to their Yoga Teacher Trainings, they had to make a decision to dedicate 6 months out of the year strictly to YTT's for 2012.
Costa Rica (PRWEB) January 27, 2012
There seems to be no shortage of yoga studios in highly populated urban centers these days, but the demand for yoga studios and yoga teachers in rural areas is on the rise. The popularity and fashionableness of yoga has been growing over the past 2 decades and is now penetrating areas of the United States and Canada that had never heard of the term "downward dog" until recently. Future yoga teachers that live more rural areas are seeking out Yoga Schools to receive their yoga teacher training certification, and students from urban hubs are looking for a place to escape the city in order to completely immerse themselves. Because of the astounding response Anamaya Resort in Costa Rica experienced to their Yoga Teacher Trainings they had to make a decision to dedicate 6 months out of the year strictly to Yoga Teacher Trainings for 2012. Co-owner and Vice President of Anamaya, Kelsey Matheson said, "Everyone at Anamaya is delighted about the overwhelmingly positive response we have had to our Yoga Teacher Trainings. Not only are we increasing the number of trainings we have this year but we've had to expand and build three new cabinas".
Anamaya's teacher training instructors have created different training programs that allow students to choose the program that best suits their needs. Jackie Chiodo's teacher training is a month dedicated to the entire ideology of yoga combining practice, lecture and discussion. Jackie also spends time on texts, ancient teachings, and how these studies can be applied to modern life and becoming a yoga teacher. Cain Carroll's program is deeply rooted in the study of yoga, yogic texts, anatomy, nutrition and therapeutic utilization's. Both teacher trainings stress that there is a huge element of self-discovery during the programs and are truly life changing.
A very unique feature of the yoga teacher certification packages that Anamaya has to offer is that their prices include both accommodations and three organic meals per day. The meals are carefully prepared and cater to vegetarians, vegans, gluten free, dairy free, sugar free but also can include chicken or fish as per the guests desires and needs. Yes, these meals are incredibly healthy but are also absolutely delicious. Guests feel like they are given a true culinary experience without sacrificing their health. Additional perks also include beach excursions, fire-dance performances, and a few special outings during the month of training in Costa Rica. Anamaya Resort is dedicated to the health and wellness of the mind, the body and the spirit and that philosophy is infused in all areas of operation for the retreat center. They incorporate Green building practices, environmentally friendly cleaning policies, and sustainable principles overall.
Yoga Teacher Trainings have become a large part of Anamaya's focus but they still offer weekly yoga and surf retreats as well. A week of yoga, adventure, sun, surf, and sand all taking place in a beautiful paradise. Everyone is raving about Anamaya on Facebook, Twitter and on Trip Advisor. It seems to be a very special place that is constantly evolving in order to cater to their guests' needs.
Contact:
Kelsey Matheson-McCord
Vice President/Co-Owner
Anamaya Resort & Retreat Center
kelsey(at)anamayaresort(dot)com
###