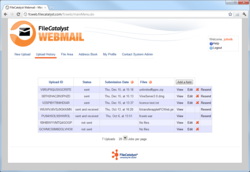 Ottawa, ON (PRWEB) January 27, 2012
Unlimi-Tech Software, leading developer of accelerated and managed file transfer solutions, is pleased to announce the immediate availability of FileCatalyst Workflow and FileCatalyst Webmail. Built on the FileCatalyst platform, each application provides a web portal for managing and tracking file transfers.
FileCatalyst Webmail solves the problem of large e-mail attachments by facilitating distribution of large files to anybody with an email address while tracking information such as when each recipient has downloaded the files.FileCatalyst Workflow has the same file distribution capability, but also adds a comprehensive ingestion workflow: users submit files to an organization's instance of FileCatalyst Workflow. Once the files arrive, FileCatalyst Workflow provides full tracking and visibility of the new digital assets.
Both applications provide individual and group web folders for easy file sharing and collaboration. A range of security options such as SSL and AES encryption, as well as automatic file deletion and protected downloads cater to the most security-conscious organizations. Reliability measures include checksums at every stage of the file transfer, as well as robust resume and retry capabilities.
New to version 4.7:

User style template "FC Modern" is now used as the default, offering a cleaner and easier to use interface
Ability for user to choose a particular FC/FTP server for uploading
Separate log files for user, system and automatic deletion
All Java applets and Internal FileCatalyst Server upgraded to FileCatalyst 3.0, which now also integrates with the FileCatalyst Central console
Internationalization: a French language pack is now included
Automatic import and synchronization of Global Address book from LDAP/AD
Internal processes (like auto-deletion) now tracked with thread scheduling using Quartz
About Unlimi-Tech Software
Located in Ottawa, Canada, Unlimi-Tech Software, Inc. is the creator of FileCatalyst, the world's leading fast file transfer solution. Founded in 2000, the company has more than 1000 commercial and government clients. A file transfer specialist for over a decade, Unlimi-Tech pioneered file transfer through Java applets and continues to offer the most stable and feature-rich products to bring large data movement right into the web browser.
About FileCatalyst
FileCatalyst is a software platform designed to accelerate and manage file transfers. FileCatalyst is immune to the effects that latency and packet loss have on traditional file transfer methods like FTP, HTTP or CIFS. Global organizations use FileCatalyst to solve issues related to file transfer, including content distribution, file sharing and offsite backups.
###