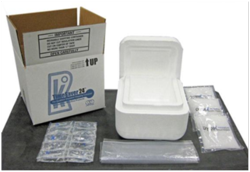 This new line allows Cryopak to offer cost effective, off-the-shelf qualified solutions for room temperature shipments.
Edison, NJ (PRWEB) January 28, 2012
Cryopak, the leader in temperature controlled products, announces the launch of their new TimeSaver 24 CRT Mini, the first product in their new line of TimeSaver CRT products.
"The TimeSaver CRT Mini adds a new size to this product line launched earlier in the year," Eva Langen, Engineering Product Manager, said. "We plan on continuously adding other models with different payload capacities as well as shipment duration time lengths during 2012."
TimeSaver24 CRT room temperature pre-qualified shippers keep product between 20°C -24° C during shipment in hot or cold environments for up to 24 hours.
This pre-qualified shipper is ideally suited for the shipment of blood products, tissue samples, and pharmaceuticals that must remain in the 15°C to 30°C range.
The TimeSaver CRT Mini's dimensions measure 9.5" x 8.675" x 7.25" with a payload size of 1 - 4 20ml vials.
"This new line allows Cryopak to offer cost effective, off-the-shelf qualified solutions for room temperature shipments."
###