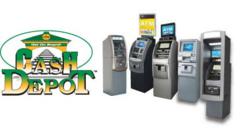 Your one stop ATM provider.
Green Bay, WI (PRWEB) January 27, 2012
Cash Depot also provides Wired and Wireless Internet Connections which are much faster, more reliable and more economical to the merchant because the internet is used rather than with a dedicated phone line.
Cash Depot is a privately owned, independent full service ATM Provider focusing on merchants and financial institutions. It is one of the few companies in the industry that provides In-House ATM Processing resulting in the fastest possible transactions. It sells, leases, rents, services and supports ATMs in the most efficient way maximizing profitability and customer satisfaction.
The Web sites are an invaluable resource for merchants in finding accessible information to address ATM needs. Information is efficiently categorized for easy navigation . The home website is http://www.cashdepotplus.com or visit the sales site: http://www.cashdepotatm.com
Cash Depot is committed to providing a customer concentric. The biggest point of differentiation is a unique culture, one that fosters meaningful long-term relationships with customers, loyal associates and a strong connection with partners.
GOAL:
Cash Depot will commit to treat everyone like family and strive to be the recognized leader in all business ventures.
MISSION:

To provide the best possible sales and customer experience in the world.
Be happy and let it show to customers and other family members.
Create security and opportunity in a diverse work environment, which promotes trust and mutual respect among family.
Do everything better, safer, faster and at a lower cost.
Maintain constant profitability as a means to future growth and success.
Cash Depot - Your One Stop ATM Provider
1740 Cofrin Drive Suite 2
Green Bay,WI 54302
1-920-432-5777
1-800-776-8834
http://www.cashepotplus.com
http://www.cashdepotatm.com
###