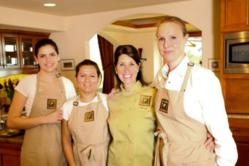 In life what can be better than delicious food, fine wine and good company? Come experience Lajollacooks4u!

Jodi Abel
San Diego, CA (PRWEB) January 31, 2012
January 31st, 2012 – Lajollacooks4u, a San Diego, CA cooking and dining experience, ranked #1 by Trip Advisor, celebrated its four-year milestone by posting record revenues in 2011.
What began as an idea has manifested itself into a growing business with a worldwide following. Jodi Abel, Founder and Chef of Lajollacooks4u, said she continues to draw inspiration from her guests who participate in the four-hour hands-on cooking and culinary adventure. "Each class is unique unto itself," Abel said. "I get to meet people from all over the world; each has a story to tell and some have even come back," Abel said.
Lajollacooks4u has made a name for itself by offering companies a unique team building experience. Major corporations such as Kellogg's, Elsevier, Luxury Retail, the luxury division of Lens Crafters, Novo Nordisk, AACE, and several biotech companies, have all passed through Chef Jodi's kitchen. Lajollacooks4u also hosted Southern Cross Cable Network a telecommunications company from New Zealand.
In addition to companies, Lajollacooks4u was also a top attraction for couples and local San Diegans who wanted a very unique and intimate activity for celebrating special occasions. Lajollacooks4u has hosted some very special birthday celebrations, rehearsal dinners, luncheons and dinners.
Lajollacooks4u specializes in Californian Cuisine and can accommodate many different palates. Often venturing off to the Latin and Asian influences and of course their Mediterranean specialties. All classes are customized for each group with special dietary preferences always taken in to consideration. "We aim to please says, Chef Jodi and we understand in a larger group there is often many different palates to accommodate. This is what makes Lajollacooks4u so unique, guests taste and sample their food along the way, sipping wine and enjoying each other's company." Guest snip fresh herbs from Lajollacooks4u very own organic garden and harvest seasonal vegetables. After the cooking is done everyone is seated to enjoy the delicious meal that they learned to prepare complete with wines that have been carefully paired with the meal.
Lajollacooks4u, founded in 2008, provides an ideal activity for couples, corporate team building and any foodie looking for a cooking and culinary experience in an ideal setting overlooking the Pacific Ocean. Based in La Jolla, a suburb of San Diego, CA, Lajollacooks4u has enjoyed record growth since its inception and has been ranked the number one attraction in La Jolla on the world's largest travel review site, Trip Advisor. For more information, contact Jodi Abel at jodi(at)lajollacooks4u(dot)com or phone 1-858-752-4980.
###