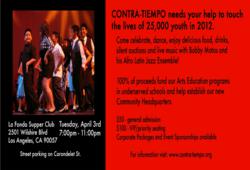 Los Angeles, CA (PRWEB) January 26, 2012
CONTRA-TIEMPO, LA's nationally and internationally acclaimed Urban Latin Dance Company, presents its Annual Charity Gala to raise $60,000, which will provide 10 under-served public schools in Los Angeles with much needed arts education and dance residencies. Come enjoy a night of dancing, food, drinks, silent auctions, live music from Bobby Matos and his Afro Latin Jazz Ensemble, while providing under-served students with creative opportunities through CONTRA-TIEMPO's dynamic arts education programming.
What: CONTRA-TIEMPO's 7th Annual Charity Gala
When: April 3, 2012 / 7pm-11pm
Where: La Fonda Supper Club – 2501 Wilshire Blvd Los Angeles, CA 90057- http://www.lafondasupperclub.com
Why: To impact the lives of 25,000 youth in 2012, from underserved communities in LA
Get tickets now: http://contra-tiempo.org/events.html
About CONTRA-TIMEPO
CONTRA-TIEMPO is a non-profit, Los Angeles based, activist dance company, founded and directed by Ana Maria Alvarez. CONTRA-TIEMPO uses the power of movement, dance and performance as a catalyst for change. In the current climate of arts education being stripped from the school curriculum, CONTRA-TIEMPO delivers programming yearly to over 25,000 students that uplifts, unites and empowers them to become more comfortable with their bodies, learn the beauty of cooperation and develops self-esteem. We support children in underserved schools to find their own unique voice and empower them to become agents of change in their lives and the lives of their communities.
"L.A.-based company CONTRA-TIEMPO is making waves with its bold approach to teaching and performance."
– Dance Teacher Magazine
"The new face of Los Angeles dance – and the new voice as well"
– Los Angeles Times, LA, CA
###