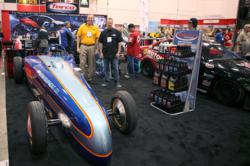 Torco is building a winning team and provides the best race fuel in the industry
Scottsdale, AZ (PRWEB) January 27, 2012
In spite of a sluggish national economy, Torco Race Fuels experienced a record year in 2011, with an amazing 45% increase in revenue versus 2010. Torco is the fastest growing company in the race fuel industry! Its growth in revenue took place across the entire product line with Torco Race Fuels, Torco Accelerator, and Torco RC Nitro Fuels all growing at a record pace.
Helping fuel Torco's growth was the expansion of its team of distributors, its customer base, and the introduction of a new, smaller Accelerator container for those customers who prefer a container that fits easily into a saddle bag. In addition, Torco was a hit at both the SEMA Show in Las Vegas and the PRI Show in Orlando.
According to Torco owner, Dana Feather,"Torco is building a winning team and provides the best race fuel in the industry." 2012 is expected to be another record year with new and exciting developments that will be forthcoming.
Thanks to its rapid growth, Torco Race Fuels has moved its Headquarters to a modern and efficient 7200 sq. ft. facility in Apache Junction, AZ. The expanded facility has improved productivity, work flow, and quality control.
Join with racers around the globe and select Torco Race Fuels: "The Choice of Champions".
Visit Torco on FaceBook at Torco Race Fuels and Torco RC Nitro
###