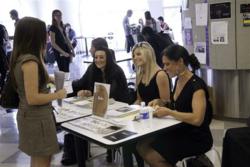 Los Angeles, CA (PRWEB) January 27, 2012
From its famous alumni (designers Monique Lhuillier, Leanne Marshall, Nick Verreos, and Kevan Hall) and industry-driven curriculum to its world renowned fashion museum and library, there are countless reasons why students choose to attend the fashion design school FIDM/Fashion Institute of Design & Merchandising. But in these challenging economic times, the fact that over 90 percent of FIDM graduates in all majors who utilize the Career Center have found employment within six months of graduation makes the fashion college truly stand out.
FIDM's 20 creative majors are focused on giving students the real-world skills they need to launch their careers. And FIDM's Career Center plays a key role in helping students and graduates succeed. At FIDM's four campuses in California, the Career Center offers on-campus recruitment and job fairs throughout the year since part-time jobs can often lead to career positions after graduation, which helps contribute to the high employment rate among these students.
In addition, the dedicated Career Center staff-to-student ratio at FIDM is better than any other college their size and over 19,000 jobs are posted on FIDM's job board each year. The Career Center places graduates of FIDM at top design and manufacturing companies, on the sets of hit television shows and blockbuster movies, and beyond. Advisors often stay in touch with the students who they help place for years beyond graduation, but perhaps the most unique part of FIDM's Career Center is that services are available to graduates of FIDM for as long as they choose to work in the industries that FIDM serves.
FIDM/Fashion Institute of Design & Merchandising is a co-educational, specialized, private college dedicated to educating students for the Fashion, Graphics, Interior Design, and Entertainment industries. Known as a one of the top fashion design schools, FIDM is also a leading graphic design school and digital media college. Visit fidm.edu for more information.
# # #