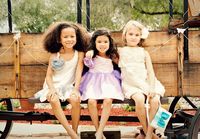 Los Angeles, CA (PRWEB) January 27, 2012
Rebecca Gold, a graduate of the fashion design school FIDM/Fashion Institute of Design & Merchandising, recently started a children's clothing line, Love Jay Girls, with her best friend Shana Cutler. The special occasion and flower girl dress line is marketed to high end children's boutiques and bridal salons. The new line has already received attention from Brides and Parenting magazines and has been worn by celebrity kids such as Suri Cruise and Zahara Jolie-Pitt.
Love Jay Girls' charming dresses are designed for young girls sizes 4 to 8 and come in an array of luxurious textures and colorful designs. They infuse princess silhouettes with a fashion edge. For spring/summer 2012, the dresses are bright and feature oversize rosettes and tulle bubble skirts. The pair of friends played dress-up together as five year-old girls and were often style setters while in school.
"I could never be where I am without the education that FIDM provided me with," says Rebecca, who worked for couture bridal designer Ines Di Santo for six years prior to striking out on her own. "We believe that a fairytale exists in every young girl's spirit." She first became enchanted with weddings as a seven year-old girl growing up in Tucson, Arizona. Rebecca received an Associate of Arts degree in Fashion Design from FIDM.
FIDM/Fashion Institute of Design & Merchandising is a co-educational, specialized, private college dedicated to educating students for the Fashion, Graphics, Interior Design, and Entertainment industries. Known as a one of the top fashion merchandising schools, FIDM is also a leading graphic design school and digital media college. Visit fidm.edu for more information.
# # #