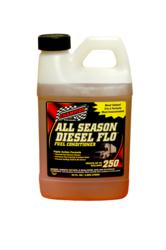 Champion Brands Introduces Multi-Functional Fuel Additive for the Diesel Aftermarket

Summary:
Clinton, MO (PRWEB) January 28, 2012
Champion All Season Diesel Flo is a very powerful conditioner and anti-gel. Adds lubricity, detergent, and cetane improvement to low sulfur diesel fuels. Contains no metals, halogens, sulfur or other ingredients that are harmful to diesel engines. Champion All Season Diesel Flo is completely organic and ash free. Available in a 64 oz. container.
About the company: Champion Brands, LLC, is a globally recognized industry leader in synthetic oil for over 55 years. Champion also produces and blends over 300 products including fuel, oil, engine additives, and lubricants for the racing, automotive, heavy truck, agricultural, industrial, and specialty markets. For more information about Champion Brands contact your nearest Champion distributor, or call Champion at 800-821-5693 or 660-885-8151. Champion Brands, LLC; 1001 Golden Drive, Clinton, MO.
http://www.ChampionsUseChampion.com.
###