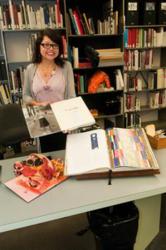 Los Angeles, CA (PRWEB) January 28, 2012
The premier information hub all things fashion and design, the library at the fashion design college FIDM/Fashion Institute of Design & Merchandising, is the largest fashion library on the West Coast. Not your typical college library, the FIDM Library has an incredible collection of books, periodicals, and trade publications and is noted for its Textile Division and Interior Design Workroom, both of which offer students exclusive access to materials and industry resources. Digital resources from the library are available online via a password protected student research area. One new feature is Plunkett, a valuable research tool that allows students to follow emerging trends and even search for jobs.
FIDM Students, Alumni, and even some famous fashion designers visit the FIDM Library to do research. There are fashion and interior design trend predictive reports, designer fashion show videos from the past and present, over 2.5 million print and electronic titles, and fabric swatch archives. Fashion fans especially love the Vintage Room for its rare books and fashion sketches from decades past. Also on hand are over 160 international and national magazines like Visionaire, a multi-format album of fashion and art that's produced four times a year in exclusive limited editions.
The Interior Design Workroom contains a sample collection of wall coverings, window treatments, flooring, and upholstery and the massive 10,000 piece permanent study collection consists of significant clothing from the late 19th century to the present day. The FIDM Library is located at the Los Angeles campus of the fashion college and welcomes inquiries from non-FIDM students, educators, scholars, researchers, industry, and press. For more information on the FIDM Library, visit FIDM.edu.
FIDM/Fashion Institute of Design & Merchandising is a co-educational, specialized, private college dedicated to educating students for the Fashion, Graphics, Interior Design, and Entertainment industries. Known as a one of the top fashion merchandising schools, FIDM is also a leading graphic design school and digital media college. Visit fidm.edu for more information.
# # #