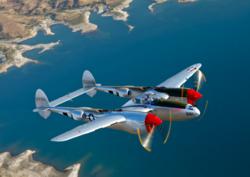 The photographer is able to capture the beauty, speed, grace, and precision of these well-known historic aircraft in vibrant photographs.
Orlando, FL (PRWEB) January 27, 2012
Stocktrek Images, the well-known online stock photography agency based in Orlando, Florida, revealed its new collection of classic warbird airplanes today. Its Warbirds Collection represents fighter aircraft and bomber planes spanning the period from World War I (1914) until the end of the Korean War (1953) and postwar era. The photographs are available to the public for immediate licensing and use through Stocktrek's website.
The planes represented in Stocktrek's Warbird Collection include both replicas and refurbished airplanes, all carefully restored to their former glory. The nostalgic aircraft in the collection include photographs of WWI German fighter planes such as the famous Fokker D.VIII, classics from the Royal Air Force including the Supermarine Spitfire, and the famous North American P-51 Mustang. This is just a small sampling of what is available within the collection.
Ryan Rossotto, president of Stocktrek Images, stated of the new collection that he is "particularly excited about the photographer's ability to capture the beauty, speed, grace, and precision of these well-known historic aircraft. The aviation photography in the Warbirds Collection are some of the finest, most vibrant images I've seen in the industry." Rossotto has a passion for military history and also added that he strives to bring only the finest airplane photographs to the public. He believes he has taken an effective stride forward in his curation of this spectacular collection of warplanes.
In addition to the wonderful new Warbird Collection, Stocktrek Images offers aeronautical connoisseurs a truly astounding array of both classic and modern military aircraft to peruse. Visitors are invited to browse the gallery of both the new collections as well as all the other photographs held in Stocktrek's large aircraft photograph galleries.
Stocktrek is a leading source for airshow photos, elegant air-to-air photography, and astounding formation flying. It also carries an abundance of modern warplane photographs that will be of interest to any military flight enthusiast. Interested parties may visit and browse Stocktrek's various collections at http://www.StocktrekImages.com.
Clients interested in Stocktrek Images are also encouraged to check out both its Facebook fan page and Twitter feed. Up to date reminders, new photo announcements, and great specials can be found on these social media platforms.
Social Media:
Stocktrek on Twitter: @StocktrekImages
Stocktrek on Facebook: http://www.facebook.com/stocktrek
About the Company:
Stocktrek Images is a stock photography agency specializing in imagery of military forces, space exploration, dinosaurs, volcanic activity and underwater photography. In addition to licensing rights managed and royalty free stock photos and illustration, Stocktrek also provides customers with the capability to purchase any images as a print or poster. It offers many different types of wall décor, from basic prints to acrylic prints with custom frames.
While Stocktrek is primarily known for its space and military content, it continues to expand its various product offerings. Stocktrek represents the talented work of photographers and artists worldwide, with over 15,000 images in its online library, and thousands more in-house. Stocktrek is an independent, privately owned business entity.
# # #