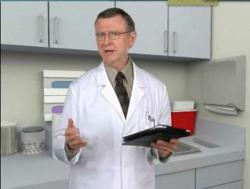 This new method of CME delivery creates a simulated learning environment that places physician learners in risk-free, real-world scenarios. -Walter Ejnes, CEO, Continuing Education Company
West Hempstead, New York (PRWEB) January 27, 2012
Continuing Education Company, Inc., a 501(c)(3) non-profit medical education organization introduced a new learning technology to the medical education community at the recent Alliance for Continuing Medical Education 37th Annual Conference on January 21-24 in Orlando, Florida. The technology uses highly interactive medical simulations that are presented in a series of movies to an audience of physician learners in a continuing medical education (CME) setting.
Walter Ejnes, President of Continuing Education Company revealed the new learning methodology in a presentation entitled "Technology Enabled Simulation in Live CME: A Case Study of Highly Immersive Learning and its Impact on Physician Behavior." Dr. Riccardo Saetti, Chairman of EduMotion SA, the Modena, Italy based creator of the technology also participated in the presentation which discussed a recent CME program that uses interactive simulations in a live group meeting format to address the prevention of stroke in atrial fibrillation patients. Interactive movies representing real world physician/patient situations are paired with moderator enhanced in-class discussion to engage learners, as well as train to differing learning styles that enhance each learner's acquisition and retention of the course content.
Dr. Saetti stated, "In traditional teacher-based lectures or audiovisual lectures, learners use both the visual and auditory channel. But they must make an internal translation of the content being presented, which not only creates a large cognitive load but also can be misinterpreted by linguistic, cultural and symbolic language biases. However, with interactive cinema, learners use the kinesthetic channel, recreating the instinctive attitude to feel cinematic events as real, happening in the present, and naturally triggering emotional reactions to personal experiences. Learners move toward intellectual ownership of the content resulting in long- term retention. This concept makes cinema a powerful and engaging medium for transmitting information."
Ejnes added,"This new method of CME delivery creates a simulated learning environment that places physician learners in risk-free, real-world scenarios. Use of interactive simulation in continuing medical education can be used to create real-world physician/patient situations. Delivering these immersive simulations to an audience of physicians in a live CME classroom setting places participants in a social situation where they are emotionally invested in the interaction process. The outcome is often more memorable and actionable then traditional instructor lead methods".
Continuing Education Company will be launching the atrial fibrillation and stroke prevention simulation at the 6th Annual Primary Care Spring Conference in Palm Coast, Florida this coming April. The CME activity will be presented to over 400 primary care physicians during two planned weekly sessions. After the debut, the program will be offered to physicians in an additional eight presentations throughout the country.
About Continuing Education Company
Continuing Education Company, Inc. (CEC) is an independent, non-profit, 501 (c)(3) continuing medical education organization that has been developing and presenting continuing medical education (CME) programs for over 20 years. Its mission is to develop and provide educational opportunities to improve the skills and knowledge of medical and healthcare professionals. The mission is accomplished by offering American Academy of Family Physicians (AAFP) accredited CME lectures, symposia, and conferences. Healthcare professionals interested in furthering their education should request more information on these continuing medical education conferences by calling 800-327-4502 or visiting the CME conference website at http://www.CMEmeeting.org.
About EduMotion
EduMotion is a company based in Modena (Italy) who has dedicated the last 12 years in researching new methodologies and technologies to improve classroom-based learning, by applying cinematic techniques, integrated with advanced interaction models and artificial intelligence. The EduMotion research group is comprised of a mix of experts with backgrounds in Medicine, Biology, Psychology, Instructional Design, Movie Screenplay, Computer Science, Computer Graphics, Marketing and Communications. The result of EduMotion research, called AMBIENT INTERACTIVE CINEMA has been applied to 4450 classroom learning events in Europe, on a total attendance of 128.000 learners. 150 interactive movies have been designed, half of them for Medical post-graduate training (CME), half for soft skill, technical, procedural training and social education. EduMotion has an agreement with NexLearn LLC (http://www.NexLearn.com) to market its technology in the US.
###