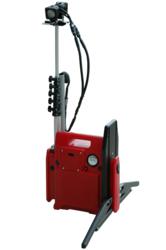 The LED10W-1X2LT LED light tower is fully portable and rechargeable with two IP68 rated waterproof 10 watt LED floodlights that can be adjusted to cover nearly a 360° area
Kemp, TX (PRWEB) January 30, 2012
The LED10W-1X2LT portable LED light tower from Magnalight produces 1600 lumens and can operate for 20 hours on a single charge. Available in both spotlight and floodlight configurations, this LED light tower is adjustable from 3 to 8 feet in height and will illuminate an area approximately 120 feet long by 100 feet wide. Designed for portability and ease of use, this LED10W-1X2LT portable LED light tower is compact and light weight at 31 lbs and measuring only 24 inches high x 13.5 inches wide x 6.5 inches deep when not deployed. This weather and abuse resistant tower package includes two aluminum bodied and IP68 rated LED light heads producing 800 lumens each for a total light output of 1600 lumens. The extendable tower assembly allows users to extend the light heads to any height between 3 and 8 feet, and is constructed of aluminum for light weight and high durability. A set of polyethylene outrigger legs can be extended to provide added tower stability in windy conditions or on uneven surfaces. Power for this portable light tower is provided by a 12 volt AGM sealed lead acid battery with a 33 amp hour and 500+ charge cycle rating. A variety of connection options allow users to recharge the unit from wall outlets or vehicles, as well as connect other 12 volt devices to the onboard battery to allow the unit to act as a portable power source. All of this tower's components can be quickly collapsed and folded within the compact carrying case, and a simple carry handle allows users to transport the entire package much like a suitcase. The power and portability of this rechargeable LED light tower makes it ideal for first responders and emergency services as well as utility and construction applications where durable and effective lighting is critical.
"The LED10W-1X2LT LED light tower is fully portable and rechargeable with two IP68 rated waterproof 10 watt LED floodlights that can be adjusted to cover nearly a 360° area," said Rob Bresnahan with Larson Electronics' Magnalight.com. "Weighing in at only 30 pounds, and offering a telescoping aluminum mast that can be adjusted to 8 feet tall; this unit can be easily carried by first responders to emergency utility sites, road construction or anywhere temporary light illumination is needed."
Larson Electronics' Magnalight produces a wide range of LED work lights, work area lights, Led light towers, LED floodlights and LED equipment lights. The entire line of Magnalight lighting products can be viewed by visiting Magnalight .com or you can call 1-800-369-6671 to learn more about custom ordering options. For international inquires call 1-214-616-6180 for more details.
###