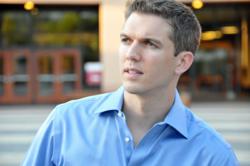 Ivester wants to help students avoid 'lol ... OMG' moments
Palo Alto, California (PRWEB) January 27, 2012
The former operator of website JuicyCampus.com, which became controversial for providing college students with a platform for posting anonymous gossip and rumors, has learned a great deal from his experiences and is now helping students understand the importance of online reputation in a book entitled "lol …OMG!"
Matt Ivester, a Stanford University MBA student and Duke University graduate, is offering "lol…OMG!" for free this weekend to mark Data Privacy Day, an annual international celebration to promote awareness of privacy best practices. The book, which normally retails in hardcover for around $25, can be downloaded at no charge through Monday, Jan. 30 from http://www.lolOMGfree.com.
Ivester says he wants to help students avoid "lol…OMG" moments. His thesis is that many young people often think they're just having fun (thus lol, which stands for "laughing out loud") when they post messages, pictures and videos about themselves and others online, only to later realize that those same posts are having unanticipated negative consequences (thus OMG, which stands for "Oh My G-d"). He is advocating for young people to become "conscious creators of content," thinking carefully about both the way that they portray themselves, and the way they treat others, online. The book provides several real-life examples of students losing friends, jobs and college opportunities as a result of making bad digital decisions. Ivester also draws on his experience to offer young people sound advice for coping with the demands and responsibilities of life in the digital age, and he offers valuable insights on cyberbullying and what students can do if faced by it.
Ivester is available to speak to members of the media.
Contact:
Dave Berkowitz
North of Nine Communications
415-695-4865
dave.berkowitz(at)nof9(dot)com
###