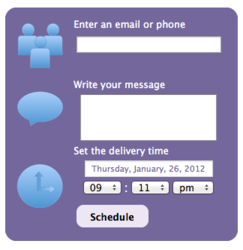 Cronote helps you remember the little things in life that may not merit being put on your calendar
Fountain Valley, CA (PRWEB) January 31, 2012
It happens daily. A spouse, family member, co-worker, or buddy will ask for a favor and expect it to be done at a certain time. "Can you pick up dinner after work?" "Can you bring ice to my party next week?" "Can you meet me at the gym tomorrow morning?" It can be a heavy burden to have to remember yet another task.
Cronote, a web-based service that specializes in email and text message reminders, is a new and effective way to alleviate that burden. A Cronote reminder is a 100-character message sent via email or text message, delivered at a specified time.
The Cronote system incorporates a time-based element to trigger the memory of a task when it is most needed. A wife might ask her husband to pick up salad for dinner after work. If he forgets and comes home empty-handed, he better be prepared for an unpleasant evening. With Cronote, he could immediately ask his wife to schedule a Cronote text message reminder and set it for delivery at 5 pm, when he gets off of work. At 5 pm, his phone will buzz with an incoming text message that could read, "Pick up salad."
Cronote provides a service to help remember the little things in life that may not merit being put on a calendar. Here are 10 tips on how to use Cronote on a daily basis for the many tasks that depend on timing:
1. Pick up coffee/lunch/dinner.
2. Bring food/gift/supplies to a party or event.
3. Return a phone call after lunch.
4. Plug your cell phone in to charge before bedtime.
5. Meet a friend at the gym on Saturday.
6. Take out the trash in the morning before the pick-up truck comes.
7. Take food out of the refrigerator after work.
8. Move the laundry from the washer to the dryer in 45 minutes.
9. Watch a TV show that is airing next week at 8 pm.
10. Be in line for the movie premiere next month.
A Cronote email or text message reminder can be set up from the Cronote website, http://www.cronote.com. There are numerous uses for Cronote reminders ranging from business to personal events. Cronote reminders are also available in the form for a "Remind" button, which can be placed on any website next to a product or event.
About Cronote
Cronote is a service for creating reminders that are sent via cell phone text message or email. A Cronote reminder is a 100-character message sent via email or text message, delivered at a specified time. It is a cost-effective, novel way to advertise on the Internet. Reminders engage customers with new and upcoming products, business homepages, and sales events.
Cronote is a web-based company established in August 2010 by graduate students from Yale University and the University of California, Irvine. Cronote aims to provide quick and easy ways to schedule reminders. Visit http://www.cronote.com to try Cronote out today.
###