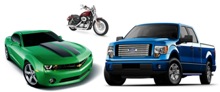 Everyone likes to save on insurance, but it's even better when you can have fun in the process!
Reading, PA (PRWEB) January 28, 2012
American Insuring Group, Ltd, a Trusted Choice independent agency offering over 25 competing brands of car insurance, house insurance, and life, health, and business insurance, has launched a state-of-the-art website for insurance savings, http://www.aigltd.com. The site caters to customers in Reading, PA, and the surrounding cities of Philadelphia, Harrisburg, Allentown, Bethlehem, Lancaster, and York, Pennsylvania, and beyond. Now, in addition to selecting the best price from over 25 insurance companies, customers can access brief and sometimes humorous videos explaining insurance coverage and options in layman's terms.
The website also features instant insurance quotes, and the ability to upload an existing insurance policy to quote similar coverage from other providers without filling out long forms.
"Our customers are delighted with the new website" said David Ross, President. "Not only does it look great, but the site has a friendly feel. The customers love the videos, especially the 20-second video on the home page entitled Why is This Man So Happy? Everyone likes to save on insurance, but it's even better when you can have fun in the process!"
Ross commissioned Reading PA web design firm, Power Marketing International LLC, to design the website and to perform all search engine optimization (SEO) activities prior to launching the site. "I was truly amazed by the results," said Ross. "Within days of going live our new site has achieved page-one Google rankings on over 170 keywords. I'm already receiving calls from new customers outside our normal sales territory who are finding us online."
Those interested in learning more about American Insuring Group's offerings can visit http://www.aigltd.com.
About American Insuring Group, Ltd
American Insuring Group is located near Reading, Pennsylvania, and is a Trusted Choice independent insurance agency specializing in helping customers save money on car insurance, homeowners insurance, life insurance, health insurance, and commercial insurance by offering coverage from over 25 competing insurance companies. The company guarantees the lowest price on insurance, and offers a free pizza for referrals.
About Power Marketing International, LLC
Power Marketing International is an Internet marketing firm located near Reading, PA, which specializes in keyword-driven web design, web marketing, and social media marketing services for small and mid-sized companies. For more information visit http://www.PowerMarketingInternational.com.
###