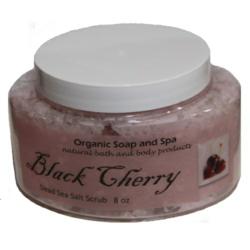 Boulder, CO (PRWEB) January 28, 2012
Organic Soap and Spa is proud to announce a new product available nationwide: Black Cherry Salt Scrub. The Black Cherry Salt Scrub, like all of Organic Soap and Spas' salt scrubs, is a 100% organic formula. Black Cherry Salt Scrub contains consisting of two types of Israeli Dead Sea Salts, a certified organic soap, and black cherry essential oil.
"Black Cherry essential oil is a key ingredient in this product because of the mild fruit acid. This acid is chemically identical to the type of acid used in those expensive fruit acid peels that you buy in a beauty salon," says owner and product creator, Joan Saez. "But this is a completely natural source of alpha-hydroxy acid which acts as a mild sloughing agent every time you use it, at a fraction of the cost of salon treatments."
Salt scrubs are a great alternative to typical sugar scrubs because they are easy to use in the shower and rinse clean. They are also less expensive, and made for whole body use, as opposed to face and hands only. Black Cherry Salt Scrub is available at http://www.OrganicSoapAndSpa.com in 8oz recyclable containers for $9.25.
Organic Soap and Spa sells Black Cherry organic soap and Black Cherry Shower Gel in addition to several other types of Salt Scrubs, including a Citrus blend featuring organic lemon and orange essential oils, Peppermint Salt Scrub, and Eucalyptus Salt Scrub. All three products are 100% natural.
Organic Soap and Spa is a Colorado small business based in northern Colorado specializing in certified organic soaps and body products with stores in Fort Collins and Estes Park and expanding distribution nationwide. Their products are 85 – 100% organic and free from harmful chemicals, perfumes and detergents.
###