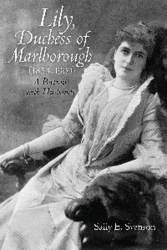 (Lily's experiences) make her story read like a newly discovered Edith Wharton novel. (Eric Homberger)
NEW YORK CITY (PRWEB) January 31, 2012
When Lily Price Hamersley married the eighth Duke of Marlborough in 1888, she became the highest-ranking American peeress in England and the first American duchess in 50 years. George Charles Spencer-Churchill, uncle to Winston Churchill, brother-in-law to Jennie Churchill and the father of Consuelo Vanderbilt's husband, was just one of Lily's three husbands. Her first husband, the wealthy New Yorker Louis Hamersley, left Lily a wealthy widow at age 28. Her third husband, horseracing Anglo-Irish lord William de la Poer Beresford, was as popular as that of a modern-day movie star. Lily loved and lost them all.
Eric Homberger, emeritus professor of American Studies, University of East Anglia, and author of Mrs. Astor's New York: Money and Social Power in a Gilded Age, had the following to say about the book:
"There is a unique flavor to Lily's experience that had little equal in her era. Her three marriages, her confident ease in moving into impossibly complicated and exalted social realms, and her decades of dealing with legal complexities related to wills, estates, and trusts make her story read like a newly discovered Edith Wharton novel. The history of the fairytale years when Lily became the Duchess of Marlborough and a dear friend of Winston Churchill is immensely readable and fascinating."
Sally Mitchell, author of Daily Life in Victorian England and The New Girl: Girls' Culture in England, 1880-1915, wrote:
"This entrancing portrait of a conventional American girl who made three extraordinary marriages draws on society papers and women's magazines as well as archives, court records and private papers to create a lively and vivid picture of social elites on both sides of the Atlantic during the late nineteenth century."
According to Jeri Bapasola, archival researcher at Blenheim Palace and author of several books on palace life and collections, Lily, Duchess of Marlborough is:
"Fascinating! The 8th Duke of Marlborough has been generally dismissed in the past as being an unimportant figure in the Churchill family's illustrious history, but . . . this book goes a long way in re-establishing his reputation, and reveals the importance of his marriage to Lily in the renewal of Blenheim Palace."
----------
For additional information, please visit http://www.sallysvensonbooks.com.
Lily, Duchess of Marlborough (18954-1909): A Portrait with Husbands
Sally Svenson
Dog Ear Publishing
ISBN: 978-1-4575-0776-2 320 pages $18.95 US
Available at Ingram, Amazon.com, Barnes & Noble and fine bookstores everywhere.
About Dog Ear Publishing, LLC
Dog Ear Publishing offers completely customized self-publishing services for independent authors. We provide cost-effective, fast, and highly profitable services to publish and distribute independently published books. Our book publishing and distribution services reach worldwide. Dog Ear authors retain all rights and complete creative control throughout the entire self-publishing process. Self-publishing services are available globally at http://www.dogearpublishing.net
and from our offices in Indianapolis.
Dog Ear Publishing – self-publishing that actually makes sense.
###