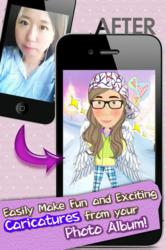 Seoul, South Korea (PRWEB) January 27, 2012
Caricature Maker Pro, a newly launched addition to the iTunes App Store and Android Market, allows users to create caricatures of themselves and others.
The simple-to-use application begins the caricature creation process with a photo chosen or taken by the user. Gallery images may be used, or a photo can be taken from within the application. Advanced facial feature detection helps to guide the user through the creation of his or her caricature. Unlike other caricature creation services, however, Caricature Maker Pro does more than apply a filter or use other photo enhancement technology to the photograph to create its results.
Instead, the finished product represents the cleverly orchestrated cooperation between the application's technology and the user's input. Other services which rely exclusively upon automatic photo alteration often lose the very details which make a quality caricature clever. The developers of Caricature Maker Pro, however, recognize that creative human input is invaluable in creating caricatures which capture individuals' personalities.
Within the application, users have the opportunity to tweak every aspect of the caricature, including eye shape, size, and color, face shape, hair style, and accessories. The application also includes a "couple" mode, which allows for the creation of caricatures from photos of two people.
The combination of the app's automatic features with user input makes Caricature Maker Pro a cutting edge addition to the iTunes App Store and Android Market. The finished images can used as a contact photo, avatar, or simply shared with friends via email, Facebook, or Twitter.
Caricature Maker Pro is available now in the iTunes App Store and Android Market for $.99.
Device Requirements:

iPhone, iPod touch, iPad and Android Devices
Requires iOS 3.2 or later
Requires Android 2.1 or later
iTunes App Store: http://itunes.apple.com/us/app/caricature-maker-pro/id454930463?mt=8
Android Market: https://market.android.com/details?id=com.mcookie.apps.caricature2_pro
###