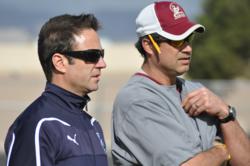 We've done pretty well over the last few years providing Pro Personnel and Scouts with some solid kicking talent.
San Diego, CA (PRWEB) January 28, 2012
Last weekend, several dozen NFL kicking, punting and long snapping hopefuls showed up in Las Vegas to qualify for the annual Aguiar/Husted Pro Camp and Combine.
This qualification camp offered kickers, punters and long snappers an opportunity to receive an exclusive invite to showcase their skills in front of NFL special teams coaches, director of player development and scouts.
In addition, the athletes received quality instruction from retired NFL players, Michael Husted and Louie Aguiar.
"This is the first step of the 'Interview' process, " said Husted. "If kicking specialists perform well at this camp, they will then be invited to a mini-camp or private workout by the team." Husted added, "Ultimately, it is about kicking well, no matter the situation."
Louie Aguiar knows all too well how long the process can be to make an NFL roster. "I was three years out of college before I made the roster with the NY Jets," said Louie Aguiar. Many notable kickers, including David Akers, Adam Vinatieri, Nick Lowery and John Carney were all cut by several teams before finding security in the NFL.
This past weekend's camp marks the ninth year that Aguiar and Husted have been working together to help fine tune technique, offer guidance through experience and provide a platform for worthy free agents to realize their dreams of kicking in the NFL.
"This past weekend Michael Husted and I put together a qualifying kicking camp for our Pro Athletes," said Aguiar. "We saw some real talent out there."
Aguiar added, "When the Cleveland Browns' Special Teams Coordinator, Chris Tabor, brought me into their training camp last summer to help out, I witnessed first-hand the benefit that our kicking camps provide teams. We provide a lot of athletes an opportunity to compete for a job in the NFL."
Relying on Aguiar and Husted's credentials, the Cleveland Browns signed kicker Jeff Wolfert and punter Richmond McGee into training camp. McGee was the starting punter until an injury sidelined him early in the season. With long time kicker Phil Dawson being an unrestricted free agent this off-season, the Browns have resigned Wolfert in case Dawson doesn't return.
"With over 30+ years of NFL playing experience, the knowledge and connections we provide to kicking specialists trying to play professional football are second to none," says Husted.
According to Husted, strict qualifications are in place to ensure Pro Personnel and Scouts see only the 'best of the best' at the Aguiar/Husted Pro Combine. In order to achieve this, all kicking specialists are evaluated over several days and must average the mandatory qualifications to attend to kick in front of the NFL teams on April 5th in Las Vegas.
Some of the kickers that made strong impressions last weekend were kickers Kenny Spencer, North Alabama University and James Wilhoit, University of Tennessee.
Husted commented, "Kenny and James separated themselves this past weekend on field goals and kickoffs. They seemed very focused and it showed in their kicking."
Long snapper Zach Enyeart, Washington State, easily demonstrated that he can be on any NFL roster with fast and accurate snaps on both punts and field goals.
Last weekend's camp is a precursor to the Annual Aguiar/Husted College Pro Camp that will be held in Las Vegas from March 31 - April 5, 2012.
For more information on Louie Aguiar visit Aguiar Kicking.
For more information on Michael Husted visit Husted Kicking.
###