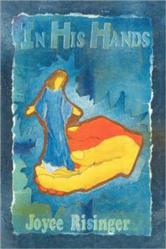 Elizabeth City, NC (PRWEB) January 30, 2012
For those who grow up under difficult conditions, God is often looked to for comfort. Joyce Risinger's new book, "In His Hands" (published by WestBow Press) is a true story set in the countryside of Jeffersontown, Kentucky during the 1940s and 1950s and enlightens readers to the power of His love.
Risinger tells the story of her family's struggle to live with an alcoholic father. Her mother strived to raise seven children to be God-fearing people, having done so with minimal help from her husband. The children had little, but they were happy when their father was not drinking.
An excerpt from "In His Hands":
Daddy's only solace was in the alcohol bottle. He started drinking at twelve and got so addicted he was helpless to quit. He quit school in the fifth grade but he taught himself so much. He took any job he could get to feed his family. When he was old enough, he went into the Army and sent money back home for his brother and sister.
I knew daddy would quit drinking after we kids grew up and he did. I know daddy loved us but I believe he didn't want kids and who could blame him after the life he had. I believe he just wanted someone to love him only and with kids he had to share mom's love.
By writing "In His Hands," Risinger is able to show readers how through God and the love of her mother and siblings was able to become the woman she is today.
"We were a proud family and had a lot of love for each other and our extended family," tells Risinger. "The memories within 'In His Hands' are bittersweet and some are hard to believe, but I believe the reader will relate to many of these stories."
About the Author
Joyce Girdley Risinger was born in Jeffersontown, Kentucky, the first of seven children. She dropped out of school at the age of 16 to help her mother. She married a navy man when she was 17, and they are the parents of three. They now live in Elizabeth City, North Carolina.
WestBow Press is a strategic self-publishing alliance of Thomas Nelson, the world's premier Christian publisher, and Author Solutions, Inc. (ASI)—the world leader in the fastest-growing segment of publishing. Through this partnership, authors benefit from the rich publishing heritage of Thomas Nelson and the speed-to-market advantages of the ASI self-publishing model. Titles published through WestBow Press will be evaluated for sales potential and considered for publication under the Thomas Nelson imprint. For more information, or to start publishing today, visit westbowpress.com or call 866-928-1240.
###