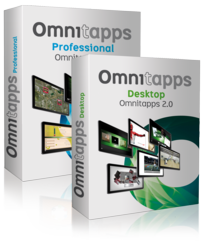 Now that people are more accustomed to touch screens, we see the need to boost the touch software to a professional level. So we made a touch suite not only 'to play with', but with real benefits and useful applications for various business industries.
Best, Netherlands (PRWEB) January 30, 2012
Omnivision BV announces the release of Omnitapps 2.0, currently in BETA the final 2.0 version will be released mid February. A demo of today's version can already be downloaded at http://www.omnitapps.com.
Omnitapps Multi Touch Suite
Omnitapps is a software suite developed for Touch Screens with business purposes. It is supported by the major touch manufacturers and runs under Windows 7. It can be used on many sizes of touchscreens and touch tables with a resolution of 1360x768 and bigger till full HD. It is customizable to own corporate identity by drag and drop files in the directory list. It has 16 different applications, every month a new app is added and the updates are free.
New features
The new 2.0 version is now also enable for single and dual touch, it has 3 applications added and a graphical upgrade for the hole Suite with 4 different menu types. Omnitapps 2.0 has 2 main versions, a Desktop and a Professional version. Another new feature and already online available is a test application, with this application you can visualize your touch data on your touchscreen. Visit http://www.multitouch-touchscreens.com and test it.
Deployment and Pricing
Whether at tradeshows, in hospitality or in a business setting, Omnitapps is fully customizable and can be utilized to fit different needs; Collect data, create traffic, interact with several people simultaneously, present and inform, welcome your visitors and much more. A Desktop version is priced at $516,00 and a Professional version $1029,00 for profit organizations. For non-profit versions visit the pricing page.
About Omnivision BV
Omnivision BV is specialized in development of (Multi-)touch applications. Besides the (Multi-) Touch Suite Omnitapps, Omnivision BV has the expertise to custom build Windows 7 Touch, Multi-Touch Table Touch, Microsoft Surface, iPhone and Android tablet applications.
###
###