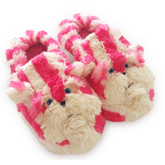 (PRWEB UK) 28 January 2012
The Intelex Group, creators of the original Hot-Pak™ herbal heat packs, will unveil their exciting new collection of microwavable Rag Dolls at this year's Spring Fair on the 5th February 2012. The Warmheart™ heatable Rag Doll range is an industry first; where Intelex's organic heat pack technology has been teamed with the popular Rag doll toy concept to create an exciting and useful new range. Given the growing popularity of Rag Dolls recently, combined with Intelex's reputation for quality and safety, the new Warmheart™ range is predicted to be a best seller in 2012.
The Intelex Group founded in 1995, created and commercialised the first ever fully microwavable herbal heat pack, aimed at relieving everyday aches and pains. The instant success achieved from the European rollout of the revolutionary Hot-Pak™ has led to Intelex winning several prestigious HGCA awards and the British American Award for Innovation.
Since then, the Intelex innovation pipeline has gone on to develop some terrific new products with wide appeal for adults and children alike. The brand has been extended into children's toys, including the best- selling ranges of Cozy Plush™, Dusty Pups™ and Pillow Heads™. Their portfolio of licensed brands include the incredibly popular Bagpuss and Co®, Jelly belly® and Clangers® and is set to expand yet further with Intelex's recent licensing agreement with Aardman Ltd, the creators and owners of the wildly popular Shaun the Sheep® and Wallace and Gromit®. The combination of Intelex organically filled and scented microwavable products with big brand names presents an exciting opportunity for retailers.
The Warmheart™ Rag Doll collection includes three adorable characters of Candy, Ellie and Olivia. The creative inspiration for the range arose from the gap that existed for a product that appealed directly to little girls and their love of dolls. Intelex has built a substantial range of microwavable teddy bear and animal themed products and the Warmheart™ Rag Doll range will compliment the Intelex microwavable toy portfolio perfectly. What could be more comforting for a child than their favourite toy, gently warmed and softly scented with French lavender to snuggle into at bedtime. The Warmheart™ Rag Doll collection will be launched for the very first time at the Birmingham NEC Spring Fair.
To view Intelex full portfolio of unique and useful products, please visit http://www.intelex.co.uk
To visit Intelex at Spring Fair 5-9th February, please visit Stand 5, G10-H11
25.01.2012
For B2B Ecommerce information, please contact
Keri Williams
0116 257 7943
keri(at)williamscommerce(dot)com
###