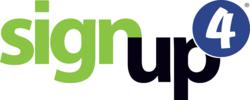 We grew our employee base by 10 percent, added 19 new Fortune 500 customers, added over 700 new features to our products, and acquired Worktopia Inc.
Atlanta, GA (PRWEB) January 27, 2012
SignUp4 the leading provider of strategic meetings management software, is pleased to present this review of its progress in 2011. This past year, SignUp4 celebrated its 12th year in business with record revenues, new staff and service expansions. "We grew our employee base by 10 percent, added 19 new Fortune 500 customers, added over 700 new features to our products, and acquired Worktopia Inc.," said Nick Romano, Founder and President of SignUp4. "Our client renewal results as a percentage of monthly recurring revenue demonstrates the organization's client focus."
During 2011, the organization renewed over 94 percent of revenue up for renewal. "Perhaps the most exciting result was the market's acceptance and support of our Strategic Meetings Management Suite. We continue to expand our client base in this emerging market sector," stated Romano. The SignUp4 strategic meetings management product line now includes the Event Management System, Travel Management System, Spend Management System, and the Small Meeting Solution.
Throughout the year, SignUp4 also accomplished the following:
New Systems Released
The development team solidified product offerings by adding 716 new features to the suite. Features including budget estimator and advanced session capabilities are helping to support and streamline the production side of the event cycle.
Worktopia Acquisition
In May of 2011, SignUp4 acquired Worktopia, Inc. after a number of years collaborating on the Worktopia booking engine. Romano included that, "this addition illustrates our commitment to bringing new, innovative products to the small meetings sector." Following this acquisition, SignUp4 entered into a reseller agreement with one of the world's largest travel management companies to bring a booking tool for small meetings to their mid-market customers. There are plans to re-launch this product to the market during 2012.
Marketing Vision
In November of 2011, the organization refocused its marketing efforts on becoming an industry thought-leader. To this end, intense marketing and content development initiatives are underway.
Overall Growth
SignUp4 grew top-line revenue by 22 percent, increased event registration usage by nearly 23 percent, and achieved a 39 percent increase in the Spend Management System. The Travel Management System retrieved 68 percent more travel records over the previous year.
"As we look forward to 2012, SignUp4 will continue to innovate in the SMM space with further additions to our budget estimator, the launch of a small meeting tool, and enhanced integrations into corporate expense tools. Our direct integration approach to obtaining travel records has opened the door to a new set of travel related features currently in development for 2012," said Romano.
SignUp4 would like to thank its employees, clients and business partners for their ongoing support.
About SignUp4
SignUp4, LLC is the leading provider of strategic event management software, technology and services for the enterprise business event planner and travel planning marketplace. Founded in 1999 and backed by an experienced team of software, technology and event management experts, we are driven by a single objective- to design, develop and deliver cost-effective event management tools for corporate meeting planners, travel planners and event management agencies. Visit http://www.signup4.com to learn more.
###