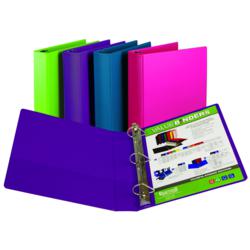 "Color is important; it persuades moves, inspires and informs us all, it can't be ignored and yet most people don't consider the impact."
Fort Worth, TX (PRWEB) January 30, 2012
Samsill is excited to unveil the 2012 Fashion Color Collection. The four new colors are affectionately named Flamingo, Plum, Aqua and Kermit. These colors were chosen based on PANTONES color predictions for 2012 presented by Color Expert Leatrice Eiseman and the purchasing trends within the college market. Samsill is one of the largest binder suppliers to colleges, providing college bookstores with unique designs and the largest variety of colors on the market for over 30 years. These new lively fashion colors speak to the optimistic college students who are looking for energy and fun. While the economy dictates choices like never before these college students make no excuses when having fun and expressing their personalities.
"Color is important; it persuades moves, inspires and informs us all, it can't be ignored and yet most people don't consider the impact. I am fascinated by trending fashion colors that spring down from the runways and hit not only your closet but your school supplies. I'm thrilled with the Samsill 2012 Fashion Color Collection and look forward to flooding the market with fun inspiring color." Drew Bowers, Director of Marketing
Pantone Palettes that inspired our color choices are:
Back to Fuchsia
These colors are bold, daring and audacious; this group is tantalizing colors that make no excuses for the attention it creates. These colors celebrate energy generated though provocative melding of dancing reds, purples and pinks that easily integrate oranges. Jewel-toned greens both accentuate and complement the hotter hues.
Nouveau Neon
These neon colors are not the phosphorescent neons of yesterday, they are instead a collection of exuberant shades that bring a fresh new perspective to combinations. Asian-inspired yellow-green place with Popsicle orange and berry purples while citrus colors toy with pink and raspberry.
The Comics
This effervescent palette pops of the page in a whimsical way that brings a smile and creates a need to take time to play. Quirky joy and spontaneity are key.
Flamingo = PMS 709C
Plum = PMS 2592 PC
Aqua = PMS 320C
Kermit = PMS 360C
To learn more about Samsill custom binder products visit http://samsill.com
About Samsill
Samsill Corporation is one of the world's largest privately held manufacturers of business cases, media storage, ring binders and sheet protectors. With corporate headquarters in Fort Worth, Texas and manufacturing facilities in Texas, Mexico and China, Samsill has grown over the past 56 years from a small family business to an employee-owned international corporation serving the school, home and office markets. For more information about Samsill and its full line of products visit http://www.samsill.com.
###