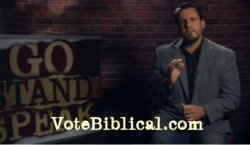 "Our standard of morality should be based on God's standard, not our own individual autonomy"
Pat Necerato, VoteBiblical.com
Millstone Township, NJ (PRWEB) January 29, 2012
In an age where the majority of many people simply vote party lines or settle for the lesser of two evils, instruction on how people can honor God with their vote is desperately needed. The 13- minute video "How to Vote Biblical," presented by Go Stand Speak Ministries founder and president Pat Necerato, expounds on a number of aspects that should be taken into account before a person casts a vote for any candidate.
Necerato is an evangelist, business owner and filmmaker, and is most known for the documentaries "Go Stand Speak: The Power of the Public Proclamation of the Gospel" and "Street Preacher…A Day in the Life." He also recently launched a nationally-concerted evangelism effort called "Operation Freedom."
Necerato explains that just because a candidate professes to be someone who believes in God, does not necessarily mean that their beliefs are Biblical. He states that the positions of each candidate must be compared carefully to Scripture as a person's standards dictate their decisions.
Additionally, just as Jesus prayed, "Thy will be done on earth as it is in Heaven," Necerato advises that every leader will be held accountable to God for seeing His law upheld and implemented. He exhorts that we must, therefore, choose men that fear God and delight in His perfect commandments.
Necerato reiterated this accountability as he recently shocked NJ State Legislators at a recent Same-Sex Marriage Hearing hosted by the New Jersey Senate Judiciary Committee at the Trenton Statehouse. The hearing allowed for public testimony regarding the pending same-sex "marriage" (S1) bill that activist lawmakers are attempting to force through the legislature.
"Our standard of morality should be based on God's standard, not our own individual autonomy," Necerato declared boldly to legislators. "If you vote this bill in, what you're doing is, in essence, you are voting against God," he concluded. Click here to watch Necerato addressing the legislature at the Trenton Statehouse.
Necerato believes that elected officials are a mirror of the soul of society. "A nation's leader is a reflection of the heart of its people. There cannot be public virtue without private virtue," he explains in How to Vote Biblical. "It is the every person's duty to stand up for God in politics and never compromise the Word of God as the only standard in every area of life," he adds. Click here to watch the video in its entirety.
In addition to the informative video, VoteBiblical.com offers links to valuable resources that outline the positions of each presidential candidate, as well as solid articles such as Biblical Standards for Choosing Civil Magistrates by William Einwechter. The site also makes available an extensive list of Scriptures that reference God's instruction in properly choosing leaders to carry out His will. Gospel tracts can be purchased as well for evangelism efforts during the 2012 election season.
Necerato urges all voters to turn from mainstream thinking and to understand the function of law and government according to God's original design. "We are not to vote for whomever we think has the best chance at winning, or even whomever we deem to be better than Barack Obama, but to vote for a man that truly will make God's moral standards the law of the land," Necerato states. "I pray that VoteBiblical.com will assist in transforming the mindsets of many who have been leaning on their own understanding and have consequently made unscriptural choices at the ballot box," he concluded.
"Moreover, thou shalt provide out of all the people able men, such as fear God, men of truth, hating covetousness…" – Exodus 18:21
Media Contact:
Pat Necerato
1-800-486-2951
gostandspeak(at)gmail(dot)com
###