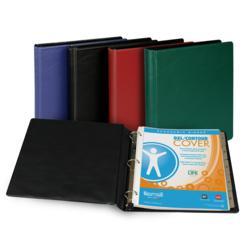 "Through the contour design and our Comfort Seal certification, we hope to further our Binders for Life™ goal of making products that improve the daily lives of our customers."
Fort Worth, Texas (PRWEB) January 31, 2012
US Ergonomics awarded Samsill DXL/Contour Cover binders with the Comfort Certification. After thorough testing the binders were shown to consistently and significantly outperform the competition in all categories which included hand pressure distribution, perceived weight, stability and balance, carrying effort, and comfort in forearm, wrist, palm, hand and fingers. In addition, the contouring of the binder spine resulted in a reduction of grasp span, resulting in a biomechanical advantage thereby reducing the grip effort.
"People with arthritis, carpal tunnel and other issues affecting the hand and fingers can have pain while performing simple daily tasks," said Drew Bowers, Director of Marketing. "Through the contour design and our Comfort Seal certification, we hope to further our Binders for Life™ goal of making products that improve the daily lives of our customers."
Your Perfect Match. Designed for comfort and a professional look the DXL/Contour Cover binders have curved back spines for a unique look and feel. The exclusive construction features heavy-duty material for the most durable binder to withstand everyday use. The cover easily houses over sized indexes and sheet protectors without overlap.
The certification is for the following series: 174 Ergonomic Storage Round Ring Binders,176 Ergonomic Reference D-Ring Binders, 177 Ergonomic View D-Ring Binders.
About Samsill
Samsill Corporation is one of the world's largest privately held manufacturers of ring binders, sheet protectors, business accessories and laptop cases. With corporate headquarters in Fort Worth, Texas and manufacturing facilities in Texas and Mexico, Samsill has grown over the past 59 years from a small family business to an employee-owned international corporation serving the school, home and office markets. For more information about Samsill and its full line of products visit http://www.samsill.com.
###