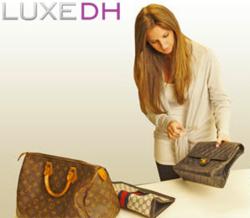 We take great personal pride in telling a woman if what she has is really authentic, because we are so passionate about handbags
Miami, FL (PRWEB) January 30, 2012
Want to know if that Chanel, Louis Vuitton or Gucci sitting in your closet is really authentic?
LuxeDH, the biggest online boutique for Authentic Pre Owned Bags, is now offering a service that will aid women in their search for the truth about the authenticity of their handbags.
Chanel, Louis Vuitton, Gucci, Marc Jacobs, Balenciaga (and more) bags – you name it. Send in pictures of your handbags to LuxeDH and their seasoned team of authenticity experts will give it a thumbs up or down.
Our authenticators are excited to offer these services.
"Our team is extremely experienced at spotting bags that are not authentic," said the authenticity team. "We take great personal pride in telling a woman if what she has is really authentic, because we are so passionate about handbags."
LuxeDH offers women the best online prices, payment plans with no interest, free shipping and the widest selection of designer handbags. With recent price increases in designer stores, the LuxeDH model of sending bags out after the first payment has never been more practical.
The site has been featured on FOX-WSVN, CBS WFOR and Carson Daly Live.
LuxeDH enjoyed an overwhelming response after the segment aired in the form of increased traffic, phone calls, customer e-mails and online orders. Apparently, there are a lot of women out there, who are unaware that they can wear their favorite designer handbags without spending a fortune.
Here is how the service works:
http://www.luxedesignerhandbags.com/products/authenticate-handbags
About LuxeDH:
LuxeDH is the biggest online boutique offering Authentic Pre Owned Louis Vuitton, Chanel, Gucci, Prada, Dior, Chloe, Balenciaga, Fendi, Marc Jacobs, Yves St. Laurent and more! All of our designer handbags are guaranteed authentic. We work hard to ensure that all of our designer handbags are authentic. We employ a team of authenticators around the clock to check and double-check all of our designer handbags. We pride ourselves on offering the most amazing deals on authentic pre-owned designer handbags to our loyal customer base.
# # #