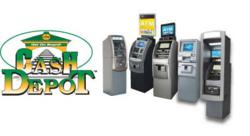 Your One Stop ATM Provider
Green Bay, WI (PRWEB) January 27, 2012
ADA COMPLIANCE - MERCHANT RESPONSIBILITY
The new ATM - ADA requirements pertain to the open floor space in front of an ATM. This is the responsibility of the property manager, or merchant, regardless of the arrangement made with Cash Depot or another ATM provider. It is the merchant's responsibility to ensure the proper legal requirements for wheelchair access. These requirements are on the Cash Depot main website: http://www.cashdepotplus.com, plus the sales website: http://www.cashdepotatm.com , and on the federal ADA websites: http://www.ADA.gov, and must be adhered to according to the Department of Justice (D.O.J.).
Keep in mind that if the provider gets named in a lawsuit and is sued because compliance is not met, the merchant, most likely, has a responsibility and a contractual agreement to indemnify the provider in the litigation.
The focus of the D.O.J.'s new ruling is on the accessibility of the input and output controls at the ATM, including:

Voice guidance – All ATMs must be speech enabled to service visually impaired consumers. Because speech output is considered by the ADA to be an auxiliary aid or service, implementation is required unless doing so would create an undue burden or expense.
Height and reach – To ensure consumers can easily access input controls, an ATM's reach must equal 48 inches. It is important to note that if the live touch-command areas on the ATM screen are higher than the function keys, the graphic area containing the touch commands must be lowered to the required height for the unit to be compliant.
Numeric keypads – The ATM's keypad must be arranged in a twelve-key ascending layout, such as telephone keys, or descending, such as a computer number pad layout.
Function keys –Function keys must be designed to contrast visually from their background surfaces.
Display screen – For visibility from a point located 40 inches above the center of the floor in front of the ATM, characters on the screen must be in sans serif font, a minimum of 3/16 inch high, and contrast with their background.
Input device – Input device controls must be tactually discernible, which means key surfaces must be raised above surrounding surfaces to serve visually impaired consumers.
Braille instructions – Braille instructions to initiate the voice guidance feature must also be provided.
Cash Depot is a privately owned, independent full service ATM Provider focusing on merchants and financial institutions. It is one of the few companies in the industry that provides In-House Processing resulting in the fastest possible transactions. Cash Depot sells, leases, rents, services and supports ATMs in the most efficient way maximizing profitability and customer satisfaction.
For questions or concerns about ADA Compliance, please call 1-800-776-8834.
Cash Depot - Your One Stop ATM Provider
1740 Cofrin Drive Suite 2
Green Bay,WI 54302
1-920-432-5777
1-800-776-8834
http://www.cashepotplus.com
http://www.cashdepotatm.com
###