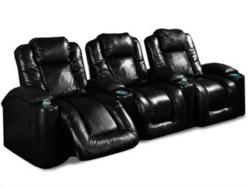 In these days of ever-increasing movie ticket prices and almost-instant access to even the most popular releases, a quality home theater from Theater Seat Store will practically pay for itself in less time than it takes to watch the Oscars
Golden, CO (PRWEB) January 31, 2012
Movie prices have increased annually for the past seventeen years, while technology offers the newest releases almost as soon as the end credits roll on the theater screen. Add in the woeful decline of movie-goer manners over the past decade or so, and the entire movie-going experience is no longer the thrifty thrill that it once was. Fortunately, TheaterSeatStore.com has a solution that's destined to become a classic.
TheaterSeatStore.com's collection of InteriorMark theater seats offers a comfortable and affordable alternative to fighting the crowds and shushing the clueless. According to Bill Lorden, Director of Sales for Theater Seat Store, "In these days of ever-increasing movie ticket prices and almost-instant access to even the most popular releases, a quality home theater from Theater Seat Store will practically pay for itself in less time than it takes to watch the Oscars."
The InteriorMark Essex line of home theater seating features a space-saving design in soft and durable microfiber upholstery with the look and feel of leather. The deeply padded cushions and back offer excellent lumbar support which can help ease back pain as the viewer sinks into the comfort and gets lost in the film. The chaise foot rest and motorized recline guarantee easy positioning, so people of all body types can put up their feet and stretch out with room to spare.
InteriorMark's Parker line offers a step up in fun and luxurious home theater furniture. The motorized recline and chaise footrest ensure easy, custom comfort that fits well with any décor from traditional to contemporary. Little blue LED lights in the cupholders make sure the viewer doesn't miss a scene while setting down a drink. The Parker line is upholstered in thick, top-grain leather, giving any home theater the kind of style, comfort and durability that people count on from InteriorMark leather home theater seating.
The Aspen line is the pinnacle of InteriorMark's new home theater seating line, and is a perfect fit for those who work hard and relax completely. The wraparound bucket seats enfolds the body like a really good story, while the motorized headrest lets the viewer choose the perfect angle for watching the show. The chaise footrest supports legs and lower back, and the LED lights in the cupholders are both practical and fun. The InteriorMark line of home theater seating combines the excitement of the theater with the comforts of home.
About TheaterSeatStore.com – TheaterSeatStore.com is a division of InteriorMark, LLC, who is the market leading retailer of home theater furniture products, entertainment furniture, massage chairs, sofas and sectional sets and bedroom furniture. The company offers a wide range of products and services designed to enhance and decorate a living room space or dedicated home theater environment. InteriorMark is a member of the National Home Furnishing Association, and is proud to be a member of the Better Business Bureau.
###