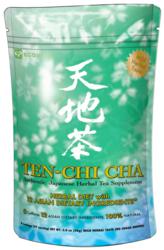 (PRWEB) January 28, 2012
Trying to figure out the best way to detoxify man's body, lose weight, improve circulation, and feel better all around? Is there any way to do so that is completely natural? TEN-CHI CHA herbal tea could be exactly what people are looking for, and it's easier than ever to take advantage of this great product through the newly revamped website from Eco Vita, LLC.
In light of the growing popularity of TEN-CHI CHA, the official website has been completely redesigned to incorporate more successful social media interactivity into the site and to improve the ease of use. This new site is as user friendly as possible, highly informative, and filled with useful tools to maximize viewer's experience when ordering or learning about the tea.
The new design of the site allows visitors to take advantage of the various social media applications so popular today, and links or icons to sites like Facebook, Twitter, and even YouTube are now easily found. There is also an RSS feed option so that site visitors can keep track of the most recent news and product offers related to this great herbal tea.
Visitors to the site who are looking to learn more about the tea and what it can do for them won't be disappointed either. There are informative articles available that detail the many benefits of TEN-CHI CHA, like its ability to boost circulatory or digestive function or the detoxifying nature that it provides to users.
Viewers can also find information on all of the various ingredients that make this Japanese tea blend so worthwhile, all listed prominently in an easy to find location. There's also a detailed look at what each of the ingredients does and what its function in the tea is, so whether people are trying to figure out why mulberry leaf is so important or what Dokudami does, they will be able to find out quickly.
The site has also been rededicated to providing users with plenty of purchasing options, as well. New items and special offers are being made regularly, including the bulk TEN-CHI CHA package that offers the same great tea in a bulk order. The cost savings are tremendous with this product, offering a three-month supply of the tea for less than forty five dollars. That's only one of the new offers that the site makes simple to find.
TEN-CHI CHA has been providing great health solutions to users for years, and thanks to this new website design it's easier than ever to find out more and to place an order. If people want to take a look for themselves, the site is available at http://tenchicha.com/.
About the Company
Eco Vita, LLC is an environmentally conscious, health product company, positioned to deliver vital herbal and natural products in the United States. The company is dedicated to social responsibility in areas of the world that supply their products. Eco Vita is a member of the UN Global Compact.
###