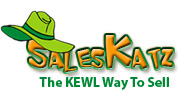 Cleveland, OH (PRWEB) January 30, 2012
SalesKatz, Inc. developer of the world's first true sales prospecting automation tool for salespeople, today announced that legal professional and City Court Judge, John Kuzdale, has joined its board of advisors. Mr. Kuzdale brings more than 28 years of legal experience, analysis, finance & resource management success to SalesKatz.
As a private attorney with 28 years of experience, Mr. Kuzdale has represented both private and public sector clients in multimillion dollar business and real estate development projects and environmental litigation. Throughout his legal career, he has actively been involved in the organization, financing and management of numerous entrepreneurial business ventures.
As a director and treasurer of a local development corporation he has participated in the analysis, funding and oversight of millions of dollars in business loans and multimillion dollar development projects. He has served as a city attorney, school district attorney and has represented a number of major banks including Bank of America, PNC, Fleet and Washington Mutual. He is a former local bar association president.
"John has an ongoing stellar record of success both as a legal professional and entrepreneur," said Ken Zebracki, SalesKatz CEO. "His insight and analysis of market conditions and financial considerations will greatly benefit SalesKatz as we grow from a startup. We're very grateful to welcome him as a member of the board and very fortunate to have him as a resource as SalesKatz continues to broaden its reach across the globe."
"SalesKatz is clearly one of the most innovative companies I've been associated with," said Mr. Kuzdale. "I feel privileged to join this exciting and dynamic team and look forward to working closely with Ken and the board during the next phase of SalesKatz' growth."
Mr. Kuzdale has also been serving as a City Court Judge in New York State for over 18 years. Throughout his tenure as a judge he has presided over a multitude of criminal and civil proceedings and trials.
Mr. Kuzdale received his Bachelor of Arts degree from Fordham University in New York City and his Jurisdoctorate from St. John's University in New York City.
About SalesKatz
Privately held with world headquarters in Cleveland, Ohio, SalesKatz has dramatically refined the sales process by utilizing advanced search engine techniques that align sellers and buyers in B2B selling situations. Founded in 2011, the company develops software applications that help salespeople align their product attributes with potential buyers needs by scouring the web for information utilizing their proprietary search engine. To find out more about the next generation in business software, visit http://www.saleskatz.com.
###