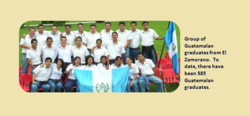 I am infinitely grateful with Banasa and the best way I have to show that gratitude is by demonstrating the abilities for which I was chosen to receive this prestigious scholarship.
José Arnoldo Buezo Alvarado
Guatemala (PRWEB) January 30, 2012
Bananera Nacional S.A. –Banasa– donates each year (for 5 years) US$25,000 to the Guatemalan Agricultural Development Endowment Fund (FDDAG) which exists thanks to the generous donations made by agribusiness entrepreneurs from Guatemala. The purpose of this scholarship fund is to offer economic help to outstanding young men and women who exhibit leadership qualities and have already been accepted at the agricultural college Zamorano but lack the financial resources to pay for their education.
This scholarship fund was created in Guatemala to allow academically bright young people from rural areas of the country to further their professional studies at Zamorano so that they may return to their communities and enrich the lives of those less fortunate and help further the development of those communities.
To date, four Guatemalans have been benefited from Banasa with scholarships. Yury Tecún, one of the students benefited stated, "I am very happy and grateful to Banasa for this scholarship. There is no doubt that it will radically change my life because a degree from El Zamorano will open countless doors for me to be successful professionally as well as personally, and I will be able to contribute economically to my family and to the development of my country."
Gustavo Bolaños, President of Banasa, commented, "Human resources are very important to us, and it is for this reason that we support the agricultural scholarship fund. Our goal is to provide opportunities for low-income Guatemalans to study at an internationally recognized institution such as El Zamorano. We have been employing graduates of this school for the past few years, and they have greatly contributed to our success and growth as a company."
About Banasa:
Banasa is one of the largest companies in the agribusiness sector of Guatemala and Central America. It produces and exports tropical fruits with the highest quality and environmental standards, committed to the welfare and development of the employees and communities. For more information visit: http://www.banasa.net/eng/index.php
###