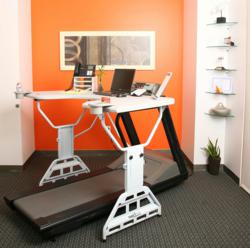 We purchased two TrekDesks for our office back in October 2009. We absolutely love them.
Denver, CO (PRWEB) January 27, 2012
TrekDesk Treadmill Desk has received favorable reviews on national and regional radio and television stations across the country. Spotlighted for its value and health benefits by Forbes, the Wall Street Journal and U.S. News & World Report, the reviews from Colorado office and home users who use the TrekDesk treadmill desk to workout at work have also been excellent.
RW in Byers, Colorado "We purchased two TrekDesks for our office back in October 2009. We absolutely love them. We feel that they are plenty big enough to get organized on but not so big that they are overwhelming. They are sturdy and durable. We have also greatly benefited from the little accessories that come with it (cup holders, paper holder, and paper organizer trays). I would highly recommend this item. In our office we work at them all day ten hours a day and they are just as sturdy and look just as good as they did the day we put them up. Great product for the money."
SA in Cedaredge, Colorado spoke specifically to the issue of walking and its effect on concentration. "I use the TrekDesk at my home office and I am more creative and focused than when I sit a a desk. I can type great, especially when I am updating Facebook!"
MW of Lafayette, Colorado addressed the affordability and overall design. "I love my Trek Desk. I have always enjoyed moving around more than sitting and had jobs that allowed me to be on my feet all day but when I started my own business I sat way too much and it started getting to me. However, when I first started looking at treadmill desks they were really expensive. Then I found TrekDesk. The desk is super sturdy, big and shaped perfectly. I get so much more done, am highly focused and the best part is that my body doesn't feel achy from sitting on my butt all day! I am grateful every day that I can work and walk. I love how it is set up. I can have my computer, notebooks and everything I would want on a regular desk right in front me at my fingertips. I love that when I decide to run when I am not working that I don't have to remove the desk. I love that you can adjust the height, how easy it was to assemble and put up and the light color of it."
DR of Colorado Springs Colorado spoke specifically to TrekDesk's weight loss capabilities and ergonomic advantages. "I LOVE my Trek Desk! I average 2.5 to 3 miles per day. Down 8 lbs in a month without changing my eating habits. Best thing is my 'mouse shoulder' pain is GONE (unless I sit at a computer for a few minutes). Lower back pain is greatly reduced. More energy. LOVE IT!
"The reviews TrekDesk is receiving speaks volumes as to the effectiveness of walking while working. Our mission is to start a 'Movement Revolution', convincing Americans that movement throughout the day will dramatically improve their health, mood, weight and productivity. These reviews help ignite the conversation," stated Steve Bordley, CEO of TrekDesk.com.
Designed to fit any existing treadmill, TrekDesk treadmill desk is an affordable, full sized, height adjustable workstation that allows individuals the opportunity to gain the necessary amount of exercise daily to maintain health, prevent disease, strengthen muscles, boost mood and productivity, without requiring additional time during the day or extra motivation. Workout at work with TrekDesk. No sweat!
TrekDesk is currently available for sale online at TrekDesk.com for $479.00 including free shipping.
Join the TrekDesk "Movement Revolution" to learn more, win a free TrekDesk or ask us any questions anytime at http://www.facebook.com/trekdesk, or follow us on twitter - http://www.twitter.com/trekdesk.
# # #