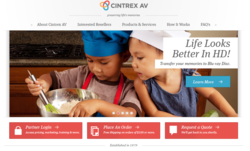 (PRWEB) January 27, 2012
Cintrex AV, is one of the nation's top film, video, audio, slide and photo preservation companies. Today Cintrex announces the launch of a new online web portal with the help of The Net Impact, the web development, web design and web marketing division of Unified Development, Inc. (Unidev).
The Net Impact not only developed a new web portal for Cintrex, but also refreshed their image with a new logo and custom website design that puts their brand on par with well-known competitors like Snapfish and iMemories. The new website makes it easier for Cintrex partners to find and access partner pricing, marketing, and training. It also allows customers to quickly place an order or simply request a quote for a project.
Since 1979, Cintrex has repaired and preserved audio visual (AV) equipment for the government, educational and entertainment industries. Now Cintrex offers conversion and transfer services, digital archive services and custom video production services and their website reflects these offerings. To give Cintrex the ability to quickly and easily implement updates, The Net Impact built the new Cintrex website in Auctori, a highly secure and search engine optimized content management system. Using Auctori, it's incredibly easy to update and add fresh content to their website without the help of a web developer. The Net Impact also enabled password-protected pages for the retailer and partner logins.
"Last year Cintrex serviced almost 4,000 families with photo or video preservation, they have more than 100 resellers nationwide and they continue to service AV equipment of all varieties," said Mandy Christanell, Creative Director at The Net Impact. "When we have a highly active client like Cintrex, we know they need an organized website, something that helps customers help themselves, and something that provides resources for their partners so they can optimize the time they spend on what they do best – preserving memories."
"We're an audio visual centered company, but our web design and our brand in general never fully reflected that. With the help of The Net Impact, we're really living up to the promise that we've made to our customers all along – high quality imagery and memory preservation. We want customers to remember not only the great experience they had working with Cintrex, but that we're always focused on quality. We want to stand out from our competition. And this new website is a big part of doing just that," said Larry Molina of Cintrex Audio Visual.
To explore the new Cintrex website, visit http://www.cintrexav.com
About The Net Impact®
The Net Impact, an Internet marketing and web development and design firm, is a division of Unidev®. Since 1997, The Net Impact has been a web development leader empowering clients with highly creative search engine friendly websites. Professional services encompass search engine and Internet marketing solutions, Internet strategy development, training and seminars and web design. For more information on The Net Impact, please visit http://www.thenetimpact.com, or call (636) 458-7772.
About Cintrex AV
Cintrex Audio Visual was established in 1979 in St. Louis, Missouri. We are a services provider in the audio visual industry; repairing A/V equipment for the government, entertainment and educational sectors; and a wholesale service bureau for the transfer of older film, video, and audio content to digital media. On average, we repair over 10,000 machines a year, and transfer over 3M feet of film and video annually. We recruit independently owned retail shops to serve as our dealers and outlets for our media transfer products; and last year this network of dealers took care of orders from 4,000 families. Visit Cintrex AV online at http://www.cintrexav.com.
# # #